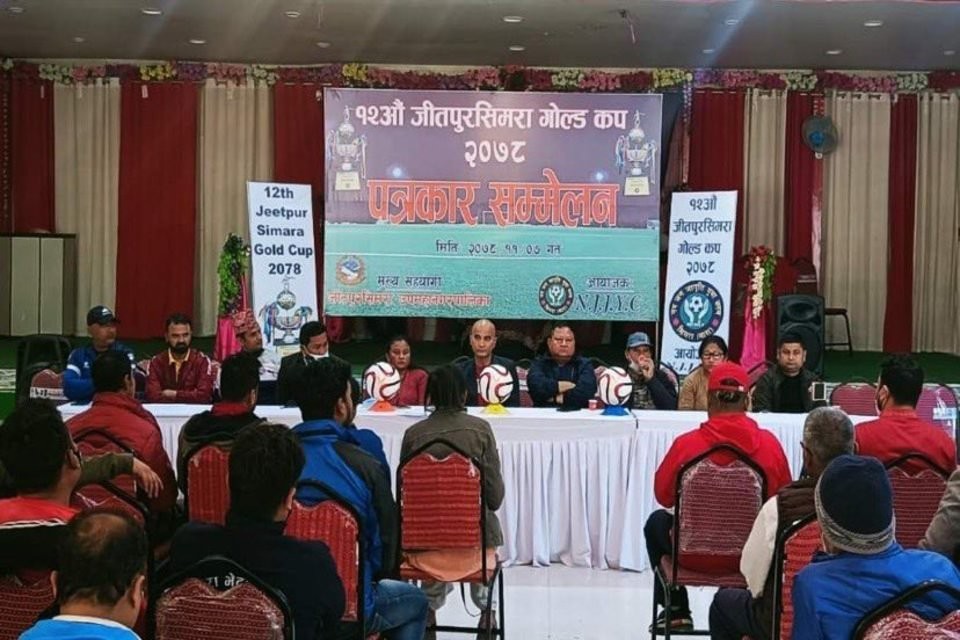 The Jeetpur Simara Gold Cup, one of the most prestigious football tournaments, which will begin later this week has roped in Jagadamba Steel as their title sponsor. The agreement was signed by Public Relations Manager Krishna Dutta Bhatt on behalf of Jagdamba and Club President Ram Chandra Lama.
The competition is starting on Thursday at Simara Stadium. Jagdamba, who played the role of co-sponsor till the previous edition, became the main sponsor as the popularity of the competition would be helpful for the company's brand promotion, said Bhatta, the public relations manager.

The competition will feature five A division teams and five other teams from around the country, according to the organizing club. The teams include Sankata Club, New Road Team, Friends Club, Himalayan Sherpa Club, APF FC, Sudurpaschim-11, Bijaya Youth Club, Hetauda, Bagmati Youth Club, Sarlahi, BFC, Chitwan and the organizers Nawa Jana Jagriti Club. The competition's winner will receive Rs 10 lakhs, while the runner-up will receive Rs 5 lakhs.

The best player in the competition will receive a motorcycle or scooter, according to Ram Chandra Lama, president of the organizing club. For the departmental award for the best performance during the competition period, the goalkeeper, defense, midfield, forward, top scorer, and coach will each receive 20,000 rupees. This year, the organizers have decided to award 15,000 rupees to emerging local players.

According to Chairman Lama, the estimated cost of the competition, which is being organized with the support of Jeetpur Simra Sub-metropolis, is around Rs 8.3 million. The competition's estimated cost for the 11th edition was $7.55 million.