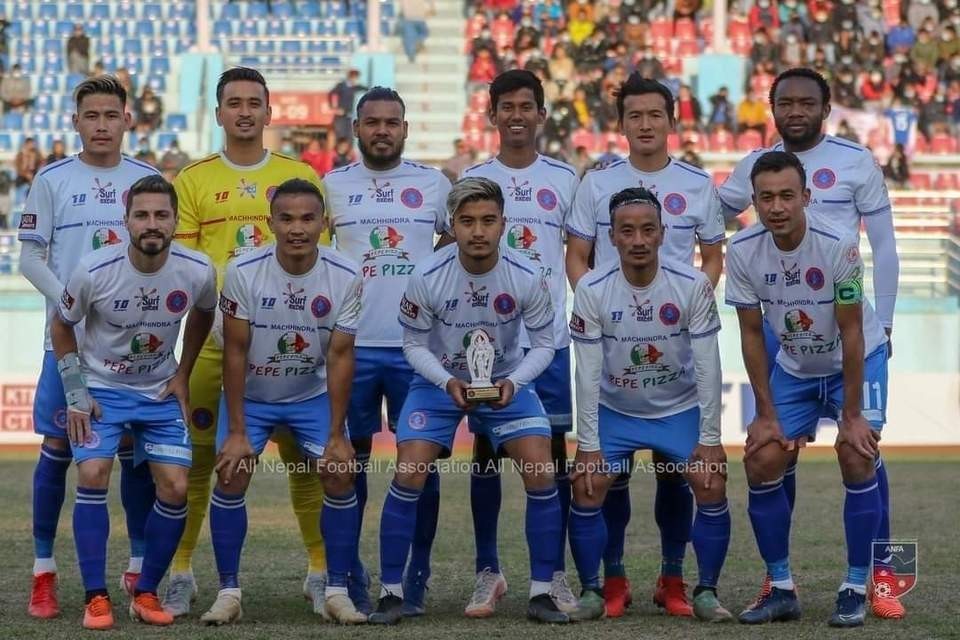 Machhindra Football Club's triumph in the latest edition of the Martyr's A Division League tournament truly marks the emergence of a new powerhouse in Nepal football.

Machhindra Football Club's dominance
It was a remarkable success in every sense.They were a solid unit and excelled in every department of the game.They played like a well-oiled machine throughout the grueling season.

They demonstrated great confidence,coordination, consistency,aggressiveness and commitment in their performance and never lost the momentum. Such was their form,consistency and dominance,they were unbeaten,winning and drawing 11 and 2 matches respectively.

Out of the maximum 39 points from 13 matches, they earned an impressive 35 points.They were unstoppable and ended up as runaway victors.They finished 12 points ahead of second- placed Tribhuvan Army Football Club.

As defending champions,obviously,they were under pressure but never once cracked.Instead they stepped up with renewed determination, robust collective effort and successfully withstood the challenge.

The league champions will represent Nepal at the 2022 AFC Cup. In the previous season they failed to compete in the tournament because they were without the AFC Club license,a requirement that allows teams to participate in AFC's continental competitions.

Coincidentally, both Machhindra Football Club(MFC) and Tribhuvan Army Football Club(TAFC) had finished in identical positions in the 2019/2020 season also.

The army outfit also was undefeated but their overall performance was far from convincing.They earned a second place finish on a better goal difference over New Road Team, the tournament's surprise package.

Full of surprises
There was no short supply of surprises. Going into the competition, previous champions Manang Marshyangdi Club (MMC),Three Star Club (TSC) and Nepal Police Club(NPC) were strong contenders for the title, however,they failed to live up to the expected standards.They fell prey to mediocrity and inconsistency.

MMC and TSC finished a low fifth and sixth respectively.With both sides full of star power, the unexpected lackluster performance took everyone by surprise.

NPC's epic struggle was evident as they barely managed to save themselves from relegation ignominy and humiliation.They finished an astonishing 11th and on the field were a pale shadow of their past.

Newly promoted Satdobato Youth Club(SYC) made their presence felt in a very big way. Overall,they put in a fighting performance and made themselves proud by finishing fourth.Remarkably they finished ahead of heavyweights like MMC and TSC.

They played a positive brand of football throughout the competition.They made their mark and displayed lots of grit and confidence.
The resurgence of New Road Team(NRT), one of the oldest clubs in the country, was one of the highlights. They had quite a season to remember.

They were level on points with TAFC for second place but got pushed to third on inferior goal difference.Nonetheless,a great comeback performance.

By contrast,Sankata Club and Armed Police Force FC, both consistent performers in domestic football, struggled to find form. Likewise, Jawalakhel Youth Club, Himalayan Sherpa Club and Friends Club, by the same measure were mired in mediocrity and gave a very poor account of themselves on the field.

Relegation drama & players comeback
The relegation axe fell on Brigade Boys Club(BBC) and Chyasal Youth Club(CYC).They paid dearly for substandard performances.

The league saw the return of three former international players. Former skippers of the national team Anil Gurung and Biraj Maharjan played for BBC and CYC respectively. Also experienced ace striker and scorer of 103 goals(the highest in league)Santosh Sahukhala was recruited by CYC.

Sidelined by injuries, twenty-three year old striker Bimal Gharti Magar was back in action for MFC after one and half years.

Matches on weekends
Overcoming COVID uncertainties and postponement, All Nepal Football Association (ANFA) managed to organize and complete the league.

Unlike in the past,matches were held on weekends.A good move by the football association.It provided players ample time to rest and recover from physical and mental fatigue between matches.

Playing conditions and venues
The main venue for the league was Dasharath Rangasala. Poor playing conditions in the overused pitch was a big concern, and players were put at risk of injuries.

How could/can ANFA blatantly ignore such an important aspect? But the truth is that they don't give a darn about it.The participating teams were/are equally guilty for remaining silent on the issue.This just shows how irresponsible and negligent they were/are. Unbelievable!

Apart from Dasharath Rangasala, a few matches were played in ANFA Complex in Patan and for the first time some matches involving MMC were held outside Kathmandu Valley.The matches took place in the newly constructed Pokhara stadium.

Foreign players & attendance
As expected, the league featured the country's top talents,including promising young aspirants from across the country.
Of the 12 teams,only TAFC and NPC rosters did not feature international players.The quality of play never rose to expected level despite the presence of foreign players.

Most foreign recruits lacked the quality to make a positive impact on the league.As a result, they failed to raise the standard of local footballers and help the team to become more competitive and successful.

It is obvious that top quality international players' presence does make a big difference.They not only elevate the standard of the league but help local players improve performance and attract more fans.

If cash strapped clubs continue to recruit poor quality foreign players, the investment will be incredibly wasteful.

They need to spend money wisely and efficiently to make the investment relevant and not wasteful. Also local players have to step up to compete against foreign players for a place in the first playing team.

Given the COVID-19 situation,average attendance for matches was not that bad.That said,the standard and quality of football played must improve to boost stadium attendance.

Congratulations Machhindra Football Club on winning the league for the second straight year. You played extremely well, did your best as a team and were deserved winners at the end.

By Sushil Thapa,Fairfax,VA, USA