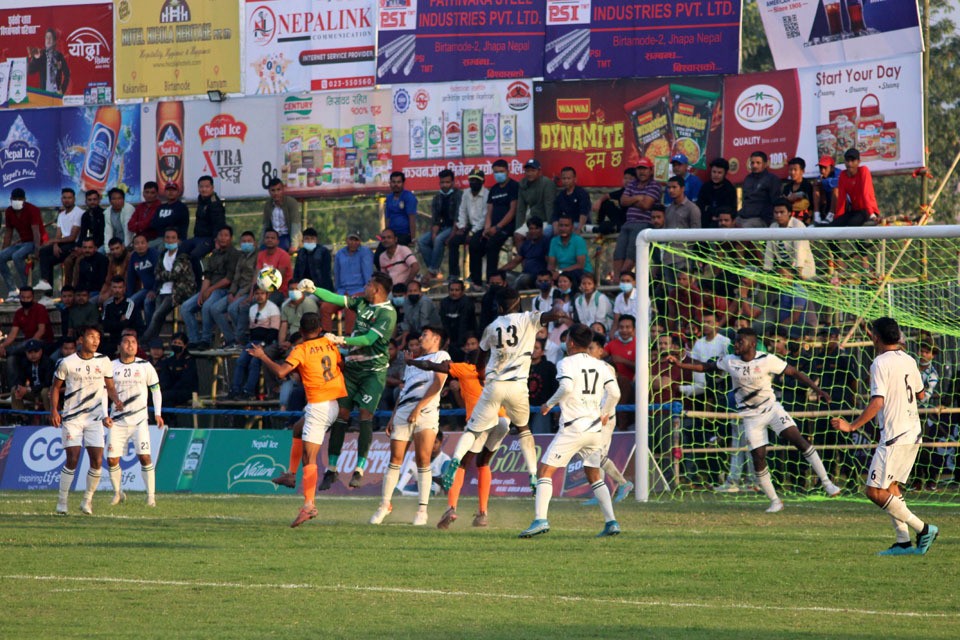 Satdobato Youth Club have qualified for the semifinals of the fifth Jhapa Gold Cup with a victory over APF Football Club. Satdobato defeated APF 2-1 to make it to the final four. Satdobato had previously defeated Jawalakhel in the previous round.
In an evenly contested match, goals came towards the end of the match. Sushil Rai opened the scoring in the 82nd minute of the match. Just three minutes later, Niraj Chaudhary doubled the lead for Satdobato.
Dipesh Dhimal pulled one back for APF in the injury time towards the end of the match but it was too late. Both teams missed a lot of chances in the match.
In the 13th minute, Akash Budha Magar's cross was saved by Japanese goalkeeper Yuya Kuriyama of APF.
In the 21st minute, APF's Armand Beaudom's shot from inside the box was saved by Martin Silo. In the 46th minute, Sushil Rai's shot was easily gathered by Yuya Kuriyama. APF's Armand Beaudom's cross was missed by captain Nabin Lama in the 55th minute. In the 74th minute, APF's Yuvraj Khadka's header came out from near the post.
Sushil Rai was named the player of the match and received Rs. 9,999..
The winning squad in the Gold Cup will receive Rs. 12,55,000 in cash, while the runner-up will receive Rs. 6,05,000.
The best player in the competition will be given a motorcycle. Emerging player, best goalkeeper, best defender, best midfielder and best coach of the tournament will each get Rs 21,000 while the top scorer will be given Rs 25,000 in cash.
Ten teams, including the organizer Jhapa 11 Football Club, as well as teams from Nepal and other nations, will compete at Jhapa Birtamod's Domalal Rajbanshi Stadium.
The Jhapa Gold Cup is being hosted with the goal of strengthening the Jhapa district as a football hub, as it is the district with the largest football activities outside of Kathmandu.
Biba Media, the owner of GoalNepal.com & KhelDainik.com, has received streaming rights of the tournament and will broadcast the matches live.
JALTHAL FC JHAPA ENTERS SFs 2nd BHAGIMAN MEMORIAL CUP