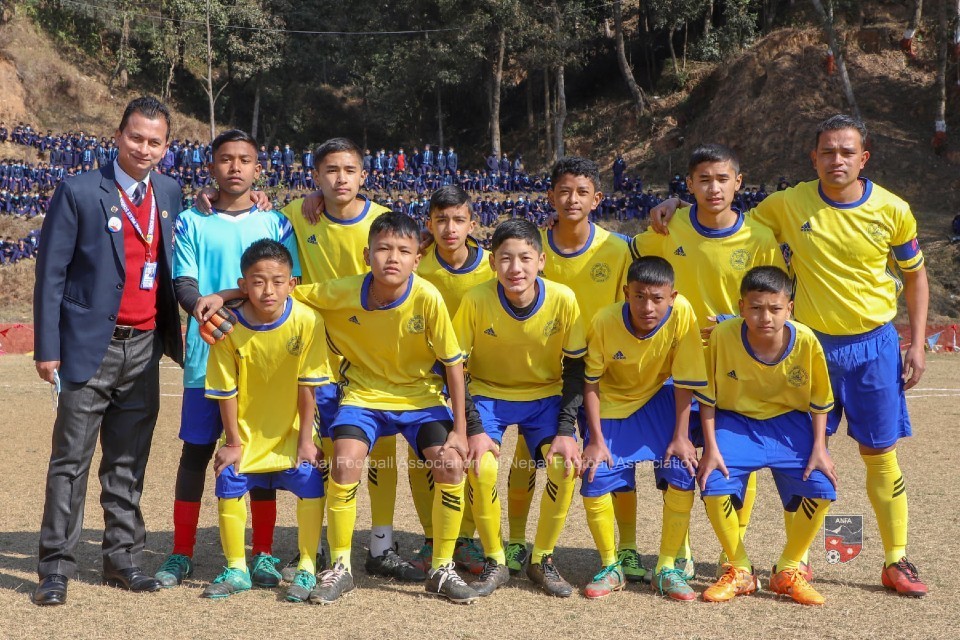 A ceremony was held today to inaugurate the Nepal Police Football Academy at the Nepal Police School in Saaga, Kavrepalanchowk. Member-Secretary of Nepal Police Sports Committee and Executive Director of National Police Training Academy, Maharajgunj, Additional Inspector General of Police Niraj Bahadur Shahi, and President of All Nepal Football Association (ANFA) Karma Chhiring Sherpa were among those who attended the opening ceremony. The players were also given sports materials by the Additional Inspector General of Police Shahi and ANFA President Sherpa.

The role of school management committee members, including school administrators, principals, and teachers, in bringing education, health, and culture together to make the school more capable and capable students, was commendable, according to the Additional Inspector General of Police Shahi, who spoke at the inauguration ceremony. ANFA's role in the establishment of the football academy, according to the Additional Inspector General of Police Shahi, has added another milestone in the school's upgrading. He also stated that the school will continue to produce not only academy players, but also other skilled players who are enrolled in the school.

The establishment of a football academy at the Nepal Police School, according to ANFA President Sherpa, has given Nepali football a new dimension, and he expressed confidence that the academy would play an important role in producing national-level players. He expressed his commitment to cooperate with the Nepal Police and provide financial, material, and technical support to the plan, as there is a plan to run a women's academy in the coming academic year.

On the occasion, Kavrepalanchowk Chief District Officer Humkala Pandey expressed his best wishes and discussed the role of the All Nepal Football Association in the development of football in Nepal as a whole in various age groups at school and in the local level.

On the occasion of the academy's inauguration, exhibition games were performed by academy players, as well as a dance performance by the students. District security chiefs, ANFA officials, school management committee officials, media representatives, teachers, and police officers all attended the event.

Chairman of the Nepal Police School Football Academy, Superintendent of Police Hem Kumar Thapa welcomed the gathering. The Nepal Police School Football Academy has formed a steering committee to represent the Nepal Police, ANFA, and the school, as per the agreement. At the program, it was announced that a total of 24 of the best players had been chosen, including 7 from the ANFA full scholarship program, 7 from parents paying fees, 7 from Nepal Police schools, and 3 others.