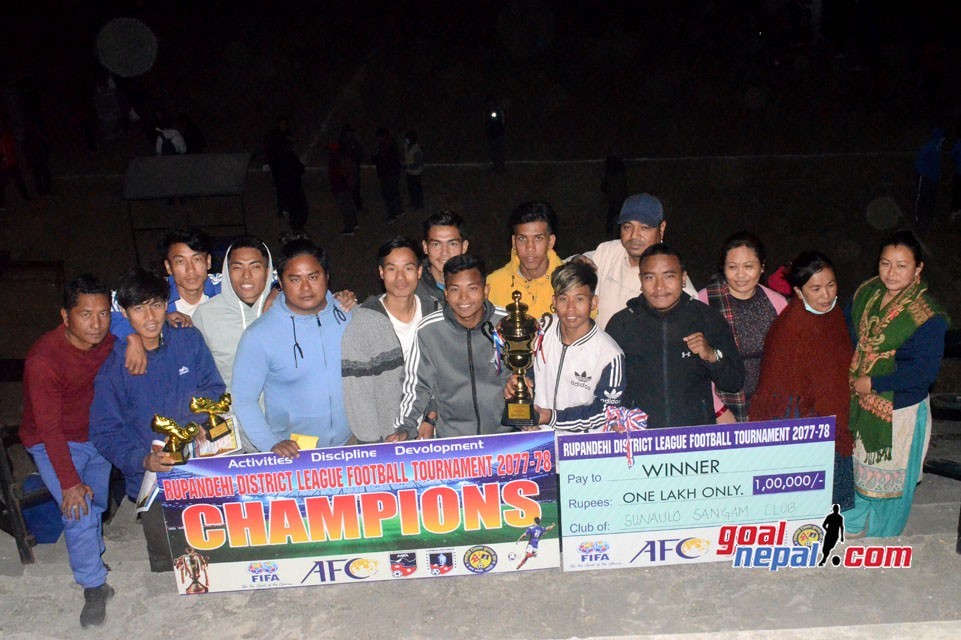 The Rupandehi District League Football Tournament was won by Sunaulo Sangam Youth Club. Despite the fact that Sunaulo did not play on the last day of the league, they were crowned winners due to a fortunate outcome.
With a win on the final day of the league, the second-placed Gorkha Boys Sports Club would have clinched the title. Sunaulo, however, maintained one point ahead of Gorkha and won the league after Gorkha lost 3-1 against Saubhagya Youth Club in that match.
Sunaulo finished first in the round-robin league tournament with 20 points from nine games. With 19 points, the Gurkha Boys came in second.
Similarly, Jharna moved up to third place with 18 points, while Butwal United remained in fourth place with 16 points. Butwal United and Jharna met in the league's final match. The match ended in a 3-2 victory for Jharna.
Sunaulo won the league and received Rs 100,000, while Gurkha Boys came in second and received Rs 50,000. Third-placed Jharna received Rs. 30,000, while fourth-placed Butwal United received Rs. 20,000.
Sunaulo, the league winner, will now play in the state league for Rupendehi. This season, Bhupu Sainik Sports Club and Chandni Youth Club were relegated from the league. The league's top eight teams will compete next season. Farsatikar Youth Club, DMC, Saubhagya Youth Club, and Lisnu Youth Club are also among the top eight teams.
Individually, Gorkha Boys' Nishan Rana was named the best goalkeeper of the competition, and Milan Chhetri was named the best defender. Sunaulo's mesh Thapa was named the best midfielder, while Gorkha Boys' Suraj Ghalan was named the best attacker. Sunaulo's Fun Bahadur Thapa was named the best coach. Everyone received a trophy and a cash prize of Rs. 5,000.
On the occasion, Dirgha Bahadur KC (Kumar), President of Rupendehi District Football Association and Central Member of All Nepal Football Association (ANFA), President of Nawalparasi District Football Association Dhan Prasad Gurung, Vice Presidents of Rupendehi District Football Association Hari Chhetri, Mukesh Kunwar, and General Secretary Lok Pun were present.