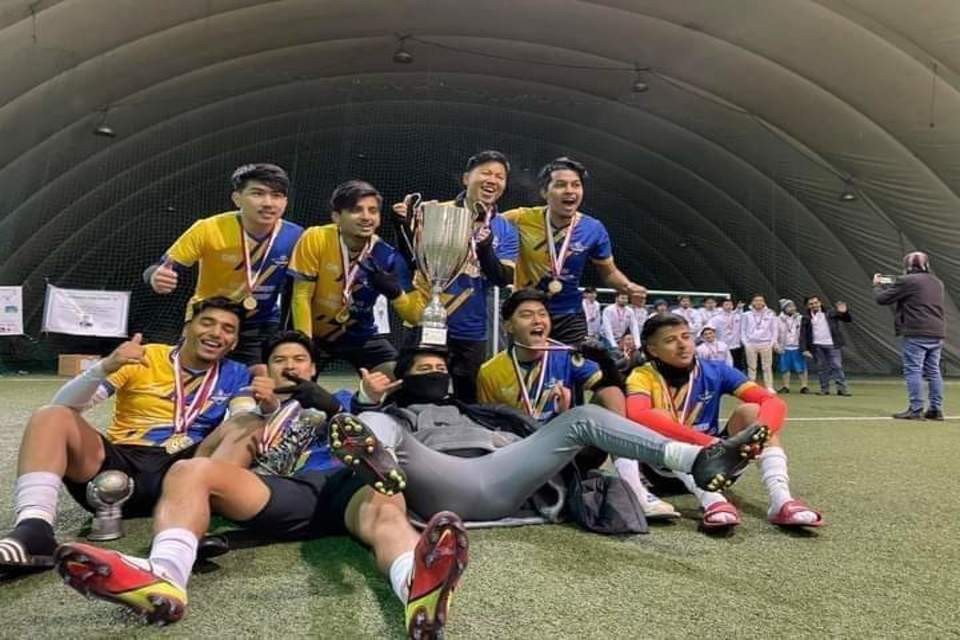 The first Birendra Memorial Football Tournament, held in Warsaw, Poland's capital on the occasion of Christmas and English New Year, was won by Portugal's Nepjum team. The title was won by Nefjum, who defeated NRNA NCC Belgium 3-1.
The winner of the championship, trophy, and medals, Nefjum, was awarded Rs 2,35,000 in cash, while the runner-up, the Belgian NRNA team, was awarded a trophy and Rs 73,000 in prize money.
Lisnep Pojnan, defending champions, came in third after defeating Everest Boys. This year, 11 teams competed, with four teams traveling from outside Poland to compete.
Everest Boys' Samir Rai was named the tournament's fastest player, while JSS Poland's Prakash Khadka was named the tournament's rising player. The best goalie was Santosh Ramtel of Portugal's Nefjum Club, and the best striker was Grishma Sharma of Belgium. The best player of the tournament was Nefjum's Nirdosh Hamal, while the best defender was Krishh Bhai and the best midfielder was Bhupan Subba.
The competition's chief guest was Jeevan KC, President of the Non-Resident Nepali Association of Poland, who was joined by many Nepali supporters from Poland and other countries.

Team Brotherhood's coordinator, Mukul Bohara, thanked everyone who assisted and made the tournament run smoothly. GoalNepal provided live streaming of the competition.