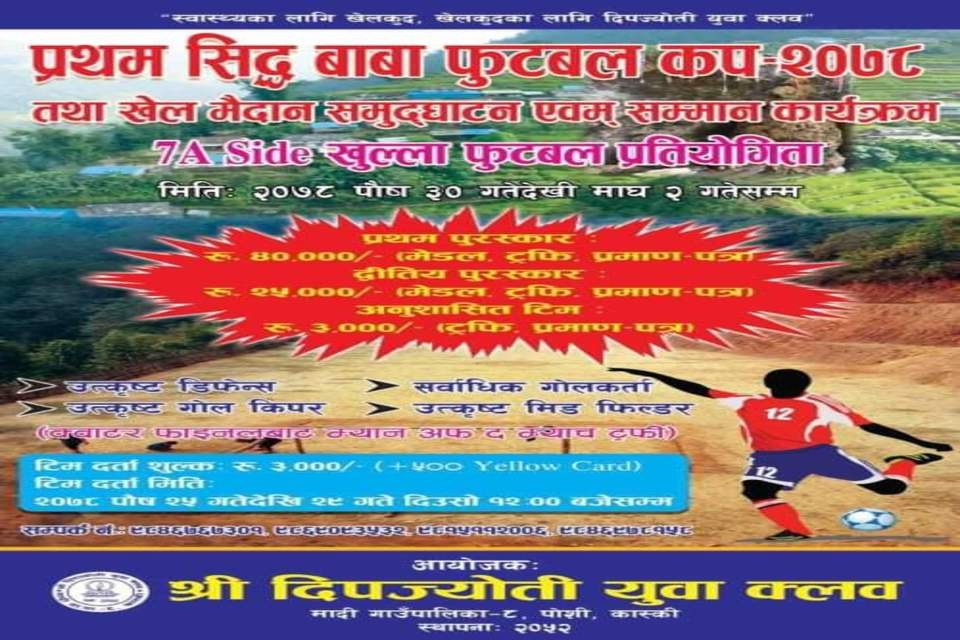 Shree Deepjyoti Youth Club, Madi-8, Poshi, Kaski is organizing the first ever Siddha Baba Football Cup 2078 7-a-side football tournament from January 14th to January 16th. Along with the tournament, the club is planning to inaugurate the ground along with felicitation program.
The winners of the tournament will receive Rs. 40000, medals, a trophy and certificates while the runners-up will receive Rs. 25000 along with medals, a trophy and certificates.
Along with that, the most disciplined team will receive Rs. 3000, a trophy and a certificate.
Best defender, best goalkeeper, best midfielder and the highest scorer of the tournament will also receive prizes.
The registration fee for a team is set at Rs. 3000 with Rs. 500 penalty for every yellow card for a team in the tournament. The registration will be done from January 9 to January 13, 12 PM.
POKHARA STADIUM - 10% WORK IS STILL LEFT