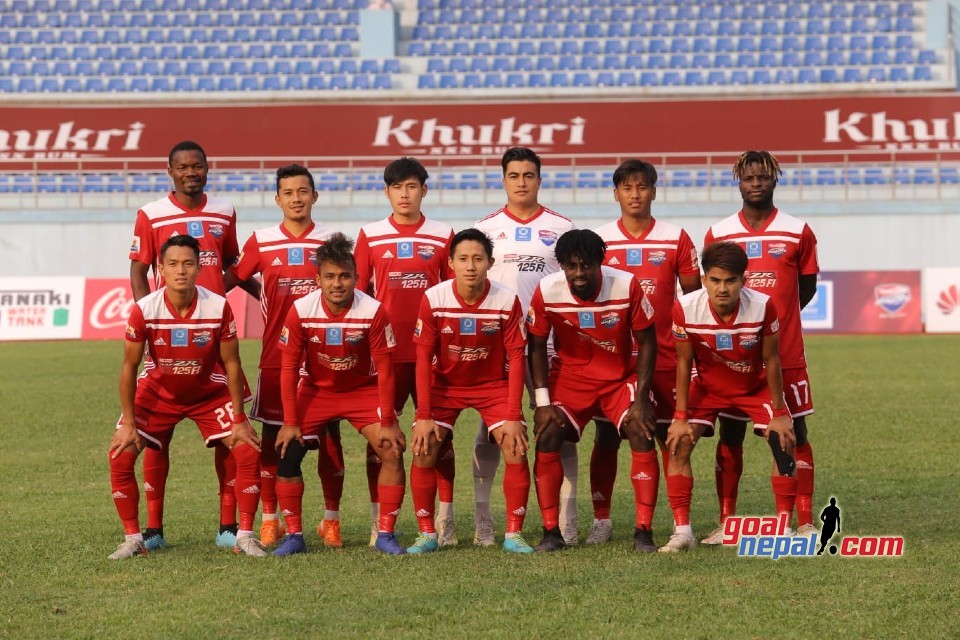 With plenty of drama, suspense and surprises, the ongoing Nepal Super League has finally wound down to the knockout stage.

Of the seven teams,Kathmandu Rayzrs FC , Dhangadhi FC, Lalitpur City FC and Butwal Lumbini FC are in the last four.
The four juggernauts will fight it out for the top honour.After a day's break, action returnsTuesday at Dashrath stadium.

There is no question that teams have endured an unsparing,arduous,grinding and strenuous schedule, and it is taking its toll on them mentally and physically. Nonetheless,they have put up a brave front. I feel very sorry for players and coaches for having to play under adverse and challenging circumstances.

I'll repeat myself, All Nepal Football Association(ANFA) led by Mr.Karma Tsering Sherpa responsible for both scheduling the tournament and the punishing fixtures are a disgrace. It is very clear that ANFA doesn't give a darn about players' well-being and safety. All they care about is their own selfish interests.

At this juncture in my book there is no clear -cut title favorite heading into the Nepal Super League playoffs,and it is still a wide open race to the finish .

It has been a topsy- turvy competition full of surprises and uncertainties.No team has stood out and looked like runaway winners.

Taking into account the four playoff teams performances in round robin,they are evenly balanced in terms of tactical and technical weaknesses and strengths.One common shortcoming they all share is inconsistent performance.

The team with a greater degree of fitness that plays attractive and effective football most likely ends up winning the tournament.

Furthermore ,maintaining consistency and explosiveness on the field,coupled with excellent defense, good finishing and high goal scoring conversion rate are keys for a team's success. The showdown between the two frontrunners Rayzrs FC and Dhangadhi FC has the makings of a thriller.
The Kathmandu outfit topped the standings with three wins,one draw and one loss. Interestingly, their only defeat came at the hands of Dhangadi FC. Surprisingly they were beaten handily. Call it a grudge or revenge match,Kathmandu Rayzrs have the chance to avenge the loss.Coming into the crucial match with two successive wins,the team's morale and confidence is high.

They cannot afford to become overly confident and aggressive, it could backfire.Against the organized opposition, they have to resort to structured build-up, short crisp passes, effective use of flanks to control proceedings.,

In Messouke Oloumou, they have a brilliant striker who has a knack for scoring goals. With 5 goals,including a hat-trick, he is the tournament's highest goal scorer and will be looking for more goals.

Once again he will be the main attacking force for his side.That said, they cannot be too reliant on him.The opponent is bound to employ man-marking on him to restrict his mobility and scoring moves. Should he be shut out, other players have to step up to do the job.Midfielder Sanjok Rai has been the playmaker throughout the competition and his form will be critical for the team's success.

He has the support of emerging midfielder Tej Tamang playing alongside him. One area of vulnerability Head Coach Bal Kumar Maharjan should be concerned is defense.His defensive setup has not quite worked.

By and large, it has been a story of poor defending.The defense has the tendency to crack and cave in under pressure and counter attacks.The eight goals they let in speaks for itself. Against an opposition like Dhangadi FC with plenty of firepower in offense, they will need to put up a vastly improved tactical performance. Else, Kathmandu Rayzrs will find themselves on the receiving end.

Having convincingly beaten Kathmandu Rayzrs in the round robin, Dhangadi FC has a psychological edge over the opposition. It will not be a surprise, if Head Coach Yugal Kishor Rai sticks to the same game plan and strategies against the opponent.However, with that comes expectation and the pressure to perform.

Dhangadi FC in defeat against Butwal Lumbini FC in the last match did not quite perform to their level.To sum up, it was an uninspiring performance lacking direction and purpose.
They must regroup,regain form,play with urgency and find the winning combination against the charging opponent who will look to exploit their weak side. They have to stay focused and keep their composure. The offensive trio Afeez Oladipo, Nishan Limbu and Darshan Gurung have to bring more consistency,variations and penetration in their
attack and improve finishing.

Striker Oladipo with 4 goals is the second highest scorer in the tournament and hungry for more goals. I hope he is fit for the match. He has the temperament and skills to produce goals and is the danger man for Kathmandu Rayzrs.

Dhangadhi FC have been fairly successful in their structured compact defensive line.They will have to continue with good defensive work in order to put the team in the driver's seat.

Midfield play has not gone as planned for Dhangadi FC. Experienced Bishal Rai carries the responsibility to rev up and take midfield play to the next level.If they succeed, it will be a good day for them,

A riveting and intriguing encounter on the cards. Anyone's game.

By Sushil Thapa, Fairfax, VA, USA