SAFF U15 Championship 2019
SAFF U15 Championship 2019

FULL TIME. India U15 beats Nepal U15 5-0. Thanks for being with us.
GOAL! India makes it 5-0. Sridarth scores.
GOAL! Taison singh scores for India U15.


HALF TIME. Stick with us for second half action.
India makes it 3-0. Anish Mazumder scores.

Five minutes remaining for a break. India are 2-0 up.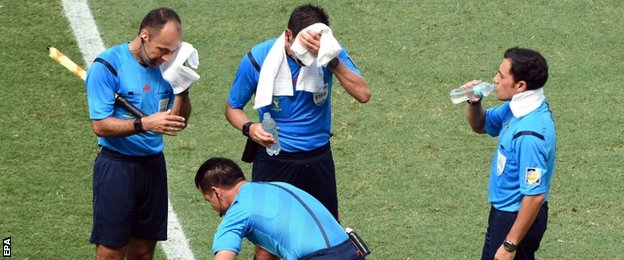 30 mins gone, India U15 look superior side as they enjoy 1-0 lead. Cooling break.
GOAL! Subho Paul scores utilizing a pass from Maheson. India U15 are 2-0 up.

20 mins gone, such a poor display from Nepal. ANFA needs to think seriously if they want to develop Nepalese football.

Poor display from Nepal. India is dominating the field.
GOAL! Maheson scores through a long ranger. Poor goalkeeping from Nepal.

Not much action in the first five minutes. What's your final score?

India have prepared well for this event. They went abroad for training. Whereas Nepal just prepared at home.

Nepal are in red, India are in blue.


Both teams are now entering the field. Are you ready for the match?

Warm up is over. Both teams are now inside dressing room, getting ready to enter the field.

Both teams are now warming up for the match. We are 26 mins away from the kick off.

This is India U15 vs Nepal U15 match. India vs Nepal is always an exciting affair.

Hello and Namaste. Welcome to you all from Kalyani stadium, Kolkata.