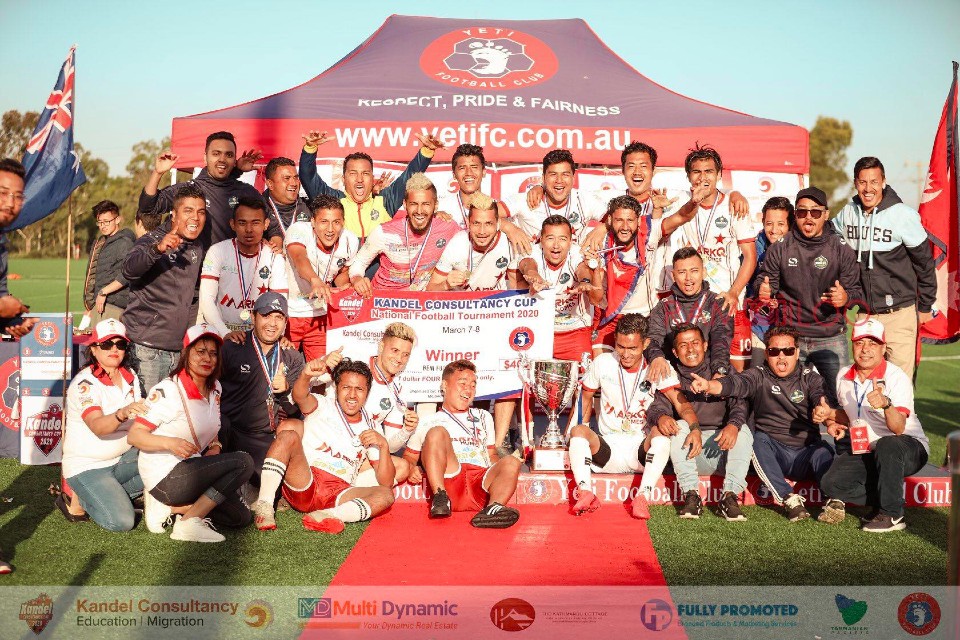 Beni FC has clinched title of 10th Kandel Consultancy cup 2020 in Melbourne, Australia.

Beni FC defeared Forever Young FC, Brisbane on penalties to lift the title.

Hosts Yeti FC became third beating Fewa FC.

Nepal international Heman Gurung became the most valuable player of the tournament. Another international Jagjeet Shrestha became the highest goal scorer and another Nepal international GK Alan Neupane became the best goalkeeper of the tournament.

In 35+ category, Yeti FC won the title defeating Machhapuchhre FC, Sydney 1-0.

Sajan Shrestha of Yeti FC was declared the Player of the Tournament, Anil Lama of SGNC won the Highest goal Scorer and Balendra Gurung of Yeti FC was declared the Best Goalkeeper of the Tournament.

Hosts Yeti FC has sent a note of thanks to all for making the event successful.

"We would like to express our heartfelt gratitude and appreciation to all the participating teams for taking the time and effort to participate in our tournament. To all the players, a massive thank you. We understand it is not easy to be away from your families and work commitment. You guys are amazing and kudos to you for putting on the best of sportsmanship over the two days. It is your love and support that inspires us to make this tournament a brilliant experience for all players, officials and supporters. We take this opportunity to thank all our sponsors – Kandel Consultancy Education and Migration, Multi Dynamics, Kathmandu Cottage, Tasmania Pacific, Fully Promoted, TIV and RK Education", said Yeti FC in a release.

This tournament was ably supported by NAV, NRNA & Church of Scientology.