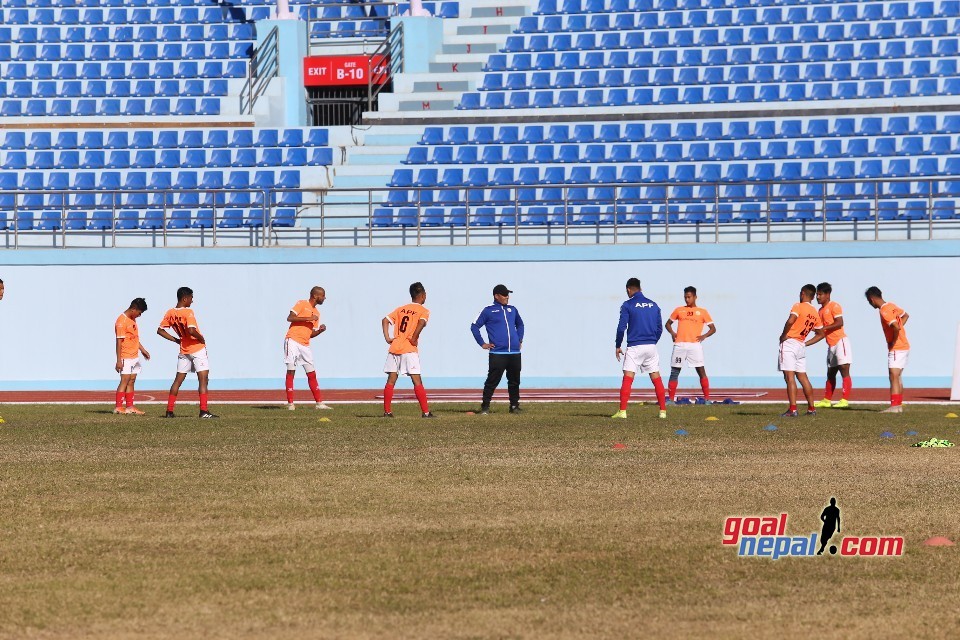 Sushil Thapa, Fairfax, VA
I know I am a bit late, but nonetheless, let me start by congratulating the men's under-23 football team,including the entire coaching staff for the gold winning performance in the recently concluded 13th South Asian Games in Kathmandu.
Also congratulations to women footballers for the second place finish.They have shown remarkable improvement, and they are slowly but surely catching up with India.Both teams have made us and the country very proud.
It is a success, the men's team truly deserved and truly earned.Without a doubt, it was a result of concerted effort, commitment, perseverance, resolve and tenacity.
In addition, players held their composure, remained focused and positive throughout the competition. Despite new pressure and expectations, they did not buckle under pressure.
More importantly, Team Nepal successfully defended the title in their own backyard.They made an electrifying start and finished off in style.They got the early momentum, and they successfully rode it all the way to the finish line.
The key was to play consistently, aggressively and score goals,which they did. Also they maintained their energy level and never ran out of steam.
There was no disappointment for the home fans this time. They were more than elated and relieved to see their team finally come out on top.They had waited for this moment for long enough.
As always they passionately and vigorously rallied around the team.Their support made a significant difference when it came to the team's morale, confidence and performance. Though things are far from rosy, Nepal's success has given us grounds for renewed hope and optimism.
Unquestionably,there is an abundance of talents in the country, but we lack the right tools and a conducive environment to develop their talents and skills.
In my opinion Bhutan's superb performance was the major talking point of the tournament. Although they lost to Nepal in the final, they produced their best ever performance and result in the South Asian Games(SAG) to date .
The Dragon Boys' performance took everyone by surprise.They have proved that they are capable of competing against the best in the region.No doubt, they have taken a giant step forward. They deserve every bit of kudos for the manner in which they played.
It is ironic that Bhutan is much better off than Nepal in terms of structure of domestic football and modern football infrastructure.
Now that the renovated Dashrath Rangasala is fully operational, my guess is that it should meet the requirements specified in the FIFA publication Football Stadiums to host international matches.We will only know upon further inspection.
Should the stadium get the green signal, home fans will have another opportunity to witness the senior national team's 2022 World Cup Qualifiers home matches against Australia, Jordan and Chinese Taipei.
Back to the SAG, the absence of India and Pakistan did take some shine off what was otherwise a great tournament. The organizing committee has to find ways to ensure full participation in the future.
There is no denying the fact that Nepal has mightily struggled in international competitions in recent years.The team has been underperforming for the most part.All in all, they have lacked confidence, discipline, flair, physical fitness,mental toughness and repeatedly cracked under pressure.
The falling standards of football can be largely attributed to the flawed system and mismanagement.The biggest roadblock to Nepal football development has been the weak domestic structure that is outdated and failed for long, coupled with woefully inadequate infrastructure.
Furthermore, All Nepal Football Association (ANFA) responsible for the development of football remains riddled with inefficiency, corruption, lack of direction,poor leadership and mismanagement and incompetence at governance.
In other words, mismanagement has been the bane of Nepal football.No wonder, instead of moving forward Nepal football has stagnated for far too long .
Despite change in ANFA leadership,we are yet to see real signs that Nepal football is changing for the better.
ANFA President Karma Tsering Sherpa should keep in mind that actions speak louder than words. He has not shown the vision and foresight in order to usher in a new era in Nepal football.

It would be a disaster for Nepal football if he turns out to be no better than Ex ANFA President Ganesh Thapa at the end of his term.

This disclaimer informs readers that the views, thoughts, and opinions expressed in the text belong solely to the author, and do not represent the opinions of GoalNepal.com