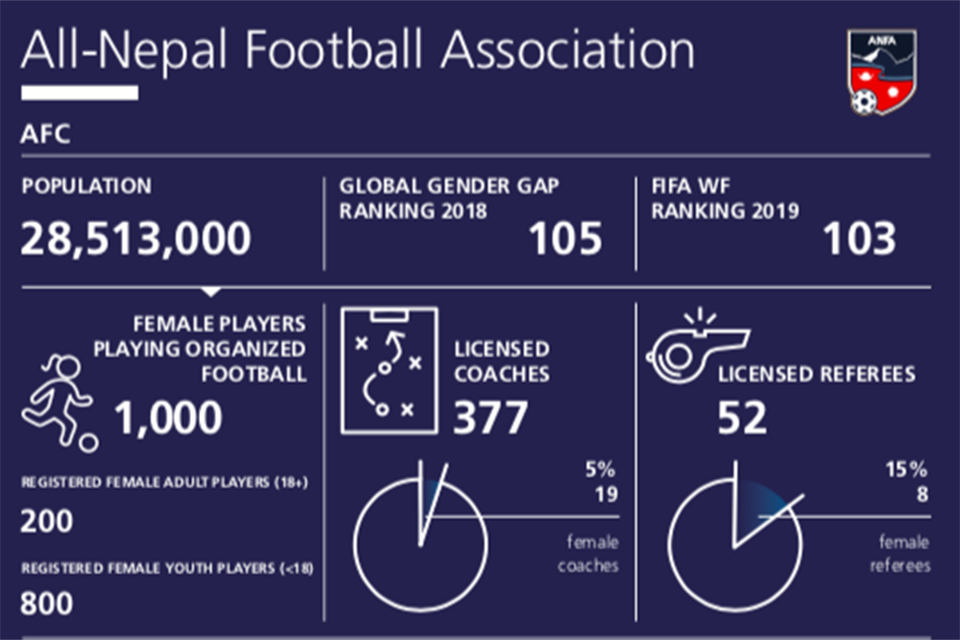 According to stats provided by FIFA, Nepal has just 1000 female players playing organized football, which is less than small country like Bhutan and conservative country like Afghanistan.



FIFA said there are 200 registered female adult players and 800 registered female youth players in Nepal. 



If you see in Afghanistan, there are 5000 female players playing organized football. Among them, 3000 are 18+ and rest are under U18. 

In Bhutan, there are surprisingly 10,000 female players. 450 are 18+ and rest are U18. 



What does this mean?



ANFA is way behind in promoting women football in Nepal. Their strategy is confide to certain places. The FA should press district FAs to have proper ladies team so that we will have more number of players. 

For this, the FA should increase budget and should provide sporting materials and should increase the number of coaches to the DFAs. Central FA should run clinics and should send scouts to different places for players selection. 



Women's football academy 



May be ANFA is waiting for right time as it is constructing the first women's football academy in Chapur, Rautahat. The construction is expected to be completed by next year. The FA should organize nation wide trial and must select the best-of-the-best players. If possible, hiring foreign coach for the academy will be the best idea. 



Women's committee



The newly formed women's committee is active. It's coordinator Pema Lama has promised that they will do everything possible to promote and develop women football. Their first challenge is to increase the number of female players in Nepal.
Friendly Match: Nepal U15 Girls Team Vs Bhutan U15 Girls