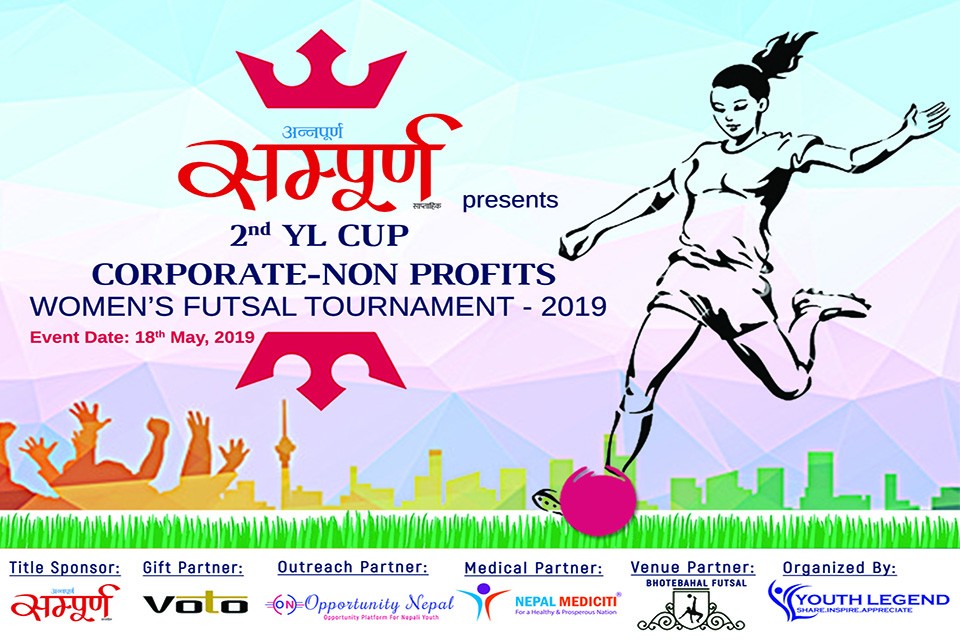 Social Enterprise Youth Legend with the support of Annapurna Sampurna, VOTO and Opportunity Nepal is going to host one day 2nd Annapurna Sampurna Corporate and Non-Profits Women Futsal Tournament 2019, with the motive of empowering women through sports.

This is the 2nd edition of Corporate and Non-Profits Women Futsal Tournament which will include teams from different banks, companies, Nonprofit organization, media house etc.

The event is scheduled on 4th Jestha 2076, Saturday. The event will kick off at 10:00 am at Bhotebahal Futsal.

The event coordinator of the event, Subash Bohara, says, "There is good evidence that participation in sports can help break-down gender stereotypes, improves self-esteem, defy the misperception that women are weak or incapable and contribute to the development of leadership skills."

The teams, for this one day tournament, will be divided into 3 groups. The tournament will commence from group stage and progress to Quarter Finals, Semi-finals and Final. The winners and runners-up will be awarded with trophies and medals, while the best player and highest goal scorer will be awarded with a trophy. Voto Nepal, a clothing brand will also provide gift voucher to all the participating team members.

Youth Legend is a social enterprise established in May 2014 with the purpose of creating valuable impact in the lives of young people around the world works on 3 core areas – International Exchange, Youth Empowerment and Psychosocial wellbeing.