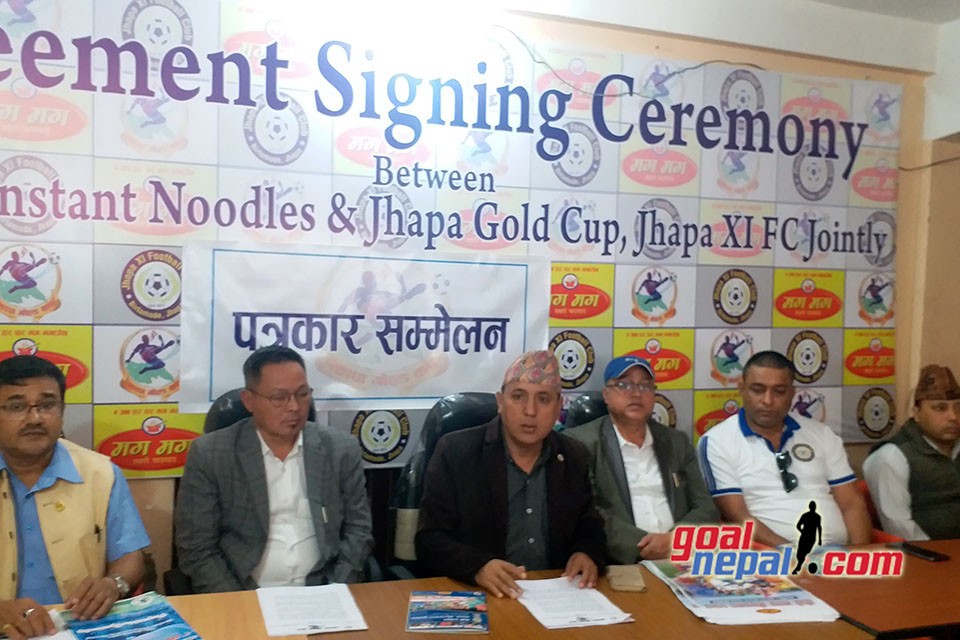 All preparation has been completed for 4th Jhapa Gold Cup that will kick off from Falgun 18.
In the press meet held on Wednesday, Jhapa Gold Cup organizers told media that they had completed all preparation for the tournament.
The organizers also signed a deal with Mansa Thai food, the producer of Mug Mug noodles.
Mansa Thai Food representative Buddhi Ghimire, Jhapa Gold Cup President Mahendra Kumar Giri and Jhapa FC XI President Jal Kumar Gurung signed the memorandum.
According to the deal, Mug Mug will provide eight lakh rupees to Gold cup, five lakh rupees cash and football gears worth one lakh rupees to Jhapa XI FC.
Mug Mug has assured organizers to provide their best possible support to the Gold Cup and for the development of sports.
Organizers have estimated that more than twenty five lakh rupees will be spent in prize money in the fourth edition. Champions will receive twelve lakh fifty five thousand rupees while runners-up will get six lakh five thousand rupees.
MVP of the tournament will get a motorbike. Best coach and Best players in each category will get twenty one thousand rupees each. The highest goal scorer of the tournament will get a motorbike. Man of match will bag fifteen thousand rupees.
A total of ten teams; NPC, Nepal Army, Nepal APF, MMC, Three Star Club, Morang XI, Rupandehi FC, Sahara Club, Hongkong Nepalese Academy and hosts Jhapa XI; will take part in the tournament.
The organizers also said that they would honour two former footballers with twenty five thousand rupees each like they had done last year.
Organizers will also hand over twenty five thousand rupees to the family of Domalal Rajbanshi, who donated land for stadium, in the opening ceremony.

The estimated expenditure of the tournament is 1 crore 5 lakh out of which 36 lakh will be spent in teams' expenses.
The organizers have aimed to save 25 lakh rupees including 6 lakh 25 thousand rupees from new members and 8 lakh 75 thousand rupees from its members.
Organizers said that they would receive support worth 80 lakh rupees from local organizations.
Final match is scheduled on Falgun 27.