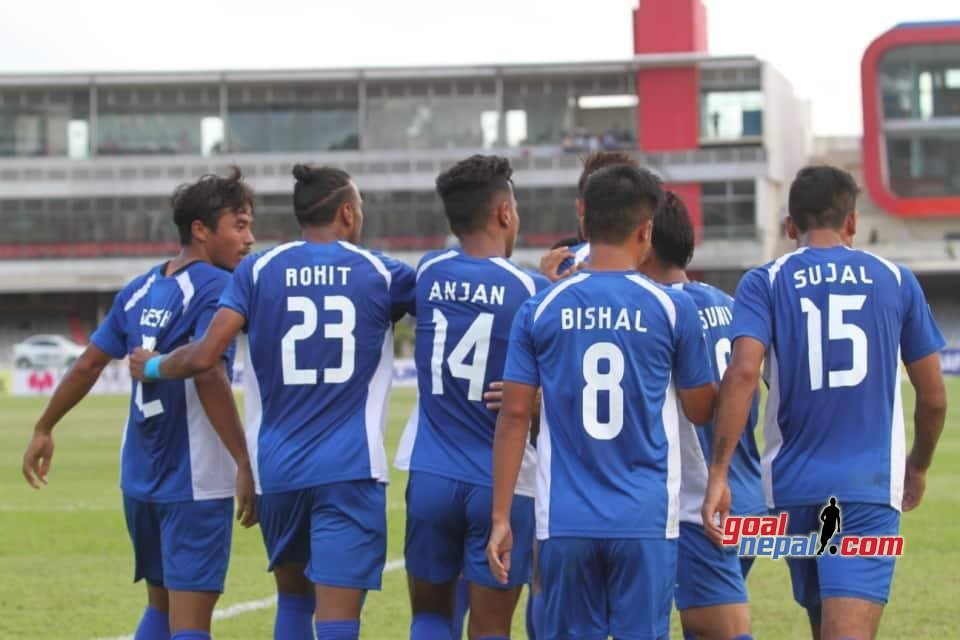 In a must win match against Bhutan, Nepal registered a run away 4-0 victory to keep their hopes
alive at the South Asian Federation Football Championship in Bangladesh.


The victory has put back Nepal in the mix and will play Bangladesh in the last group match for a
spot in the knockout stage.
 With two defeats in a row, technically Bhutan has exited the competition, while hosts 
Bangladesh have put their feet closer to the next round with two wins.


Bangladesh coasted to a solitary goal win over Pakistan in their second match.
The outcome of the final group matches will decide the second qualifier from the group. Of the
 two teams, either it is Nepal or Pakistan that will advance to the round of eight. 
Although Nepal and Pakistan are tied on points, the former with a better goal difference sits in
second place. Both sides are in a similar situation, they need nothing less than a victory.


Pakistan plays Bhutan and must win by a big margin to pip Nepal to the post. A stalemate
 result will not help them. 
Likewise, Nepal cannot afford to draw or lose to Bangladesh. I was exhilarated to see Nepal
finally in the win column.
Coach Bal Gopal lads went full throttle from the very first minute of the game and maintained
the pressure on ten-man Bhutan till the end.


Nepal had to score big which they did.By and large,it was a good performance and a morale 
booster victory.
 More important, the result provides them confidence and momentum going into the crucial
 fixture against Bangladesh.
Having said that, there is still plenty of room for improvement, be it offense or defense or
 midfield.
The offense must show more consistency, penetration, creativity and create more goal scoring 
opportunities.
The strike force has to bolster their dismal goal scoring opportunities percentage. Solid play in
midfield and defense is a must. Goalkeeping is one area that is rock solid.

No matter what the strategies or tactics are, all that counts is the result, at the end of the day.
 Nepal must double their effort, put in a concerted effort, coupled with individual brilliance.
Nepal faces acid test against Bangladesh no doubt.They have to stand up to the challenge and
go all out for victory.They cannot allow complacency creep into their performance at any point
of the game.
 Given the magnitude of the match, other than playing an attacking brand of football,they are
left with no option.
They must attack and counter attack to unsettle the opponent throughout.Taking advantage of
every scoring opportunity will be key.


Nepal and Bangladesh are similar in many ways when it comes to playing standards, playing
 strategies and tactics and players physicality.
 On paper Bangladesh might have a slight edge over Nepal but the game is wide open. It is
 a game.


I am confident Nepal can pull off victory provided they are able to put the pieces together. They 
must play consistently and to their strengths.

Thapa is a sr. journalist based in USA.