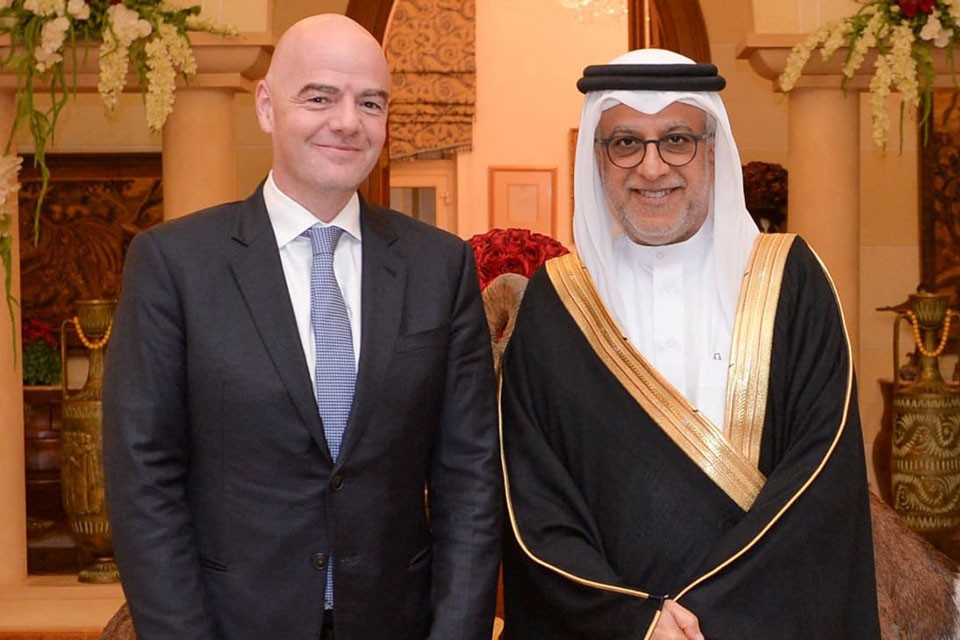 The ​Asian ​Football ​Confederation (AFC) President Shaikh Salman bin Ebrahim Al Khalifa met with FIFA President Gianni Infantino, on Thursday, during ​the FIFA President's​ visit to the Kingdom of Bahrain.
They discussed ​further cooperation between​ the​ AFC and FIFA at all levels, and ​the ​possible ways to strengthen the relations​hip in order​ to achieve the joint goals in developing the game and provide support for ​M​ember ​Associations in Asia.
Shaikh Salman ​congratulated ​​Infantino in Manama, ​on keeping an open relationship with all global game stakeholders​ and​ stress​ed​ the role of FIFA and its leadership to achieve the success.
The ​AFC President explained ​the ​AFC​'s​ future plans to continue developing ​​football in Asia and ​to ​establish ​the ​AFC ​as a ​​leader among other confederations.
Shaikh Salman confirmed ​the ​AFC​'s ​support ​in efforts to ​maintain unity in the global football family, as it is ​important for maintaining FIFA​'s​ ​role in developing the world game in​ an​ efficient and transparent way​.
The AFC President also supported the continuation of the reform process​ which was crucial in keeping the fans on side.
On the other side,​ Infantino thanked​ the​ AFC President for the reception, and hailed ​the ​AFC's efforts to develop the game in Asia, confirming that FIFA will continue to work with ​the ​AFC to achieve​ common goals.