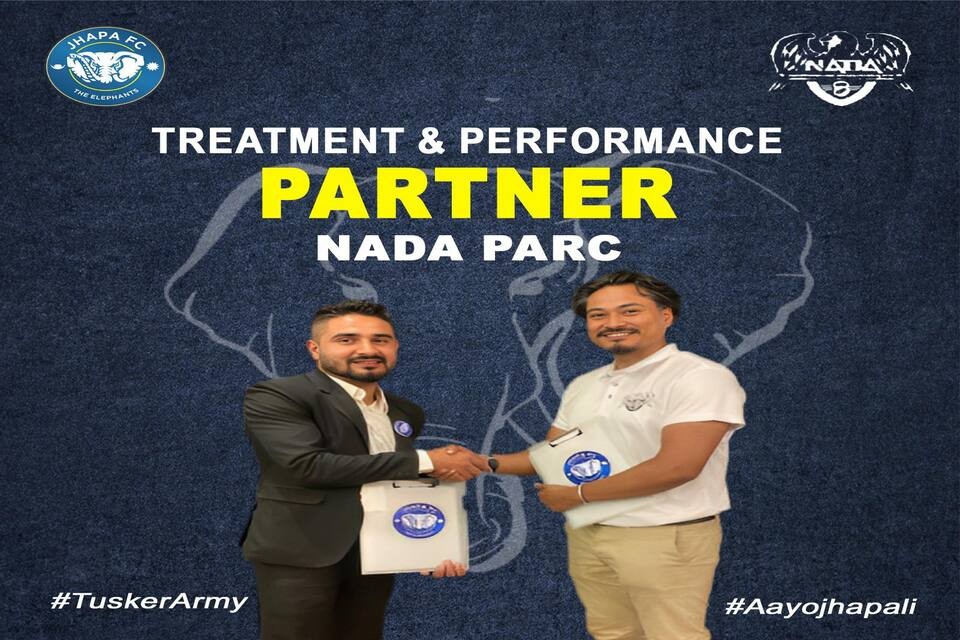 Jhapa FC, a prominent participant in the Nepal Super League, has forged a crucial partnership with NADA Performance and Rehabilitation Center, marking a significant development for the team.

The collaboration was officially announced by Jhapa FC via their social media channels.

NADA Performance and Rehabilitation Center, Nepal's pioneering facility in the field of performance enhancement and rehabilitation, has recently resumed its operations in Bansbari, featuring state-of-the-art facilities.

This strategic partnership between Jhapa FC and NADA underscores their shared commitment to elevating the professionalism and performance standards of Nepali football.

Bibek Vikrant Adhikari, the Director and Chief Executive Officer of NADA Performance and Rehabilitation Center, expressed his enthusiasm about this partnership, stating, "Due to our vision of enhancing Nepali football's professionalism and our dedicated efforts in football development over the years, we are delighted to be connected with Jhapa FC."

The agreement was formally sealed with the signatures of Manoj Burlakoti, the Technical Director of Jhapa FC, and Bibek Vikrant Adhikari, representing NADA Performance and Rehabilitation Center.
NADA's focus encompasses injury prevention, treatment, rehabilitation, and performance enhancement.

Jhapa FC's Chairman, Arpan Bikram Khadka, emphasized the importance of this partnership in their pursuit of success in the league, stating, "Our collaboration with NADA has injected a new level of energy and determination into our players and the entire team."

Jhapa FC, one of the three new teams added for the league's second edition, has been actively shaping its roster, including marquee player Anjan Bista and several other acquisitions. The stage is set for the second edition of the Nepal Super League, commencing on November 24th at Kathmandu's Dasharath Stadium.
JALTHAL FC JHAPA ENTERS SFs 2nd BHAGIMAN MEMORIAL CUP