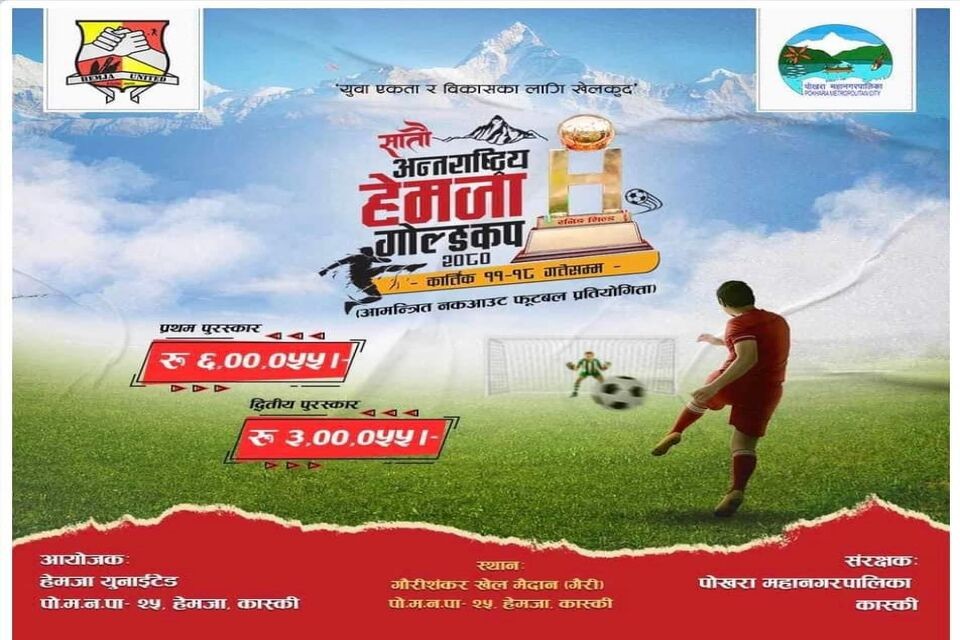 Pokhara, Nepal - In a highly anticipated event for football enthusiasts, the 7th International Hemja Gold Cup is all set to commence from Kartik 11 to Kartik 18 in the year 2080 B.S.



The tournament, organized by Hemja United, promises an exciting week of football action at the prestigious Gauri Shankar Sports Field in the picturesque city of Pokhara, Nepal.
 With a winning prize money of NPR 6,00,055 and a runner-up prize of NPR 3,00,055, the competition is expected to attract top-tier teams and talent from both domestic and international football circuits.


The Hemja Gold Cup has firmly established itself as a premier football event in Nepal, drawing attention from football enthusiasts and supporters from across the country. The tournament has seen a steady rise in popularity over the years, showcasing the immense passion for the sport in the region.


This year's event is expected to be no different, with the patronage of Pokhara Metropolitan City adding a touch of prestige and further elevating the tournament's status. The support of the city's local government underscores the significance of the Hemja Gold Cup in the sports calendar of Pokhara.


Hemja United, the organizing body behind the tournament, has expressed their commitment to ensuring a well-organized and competitive event. With the prize money on offer and the opportunity to lift the Hemja Gold Cup, teams are gearing up for fierce competition and a chance to make history.


The Gauri Shankar Sports Field, nestled against the backdrop of the breathtaking Himalayan mountains, provides a stunning and fitting venue for the tournament. The scenic beauty of Pokhara, combined with the thrill of football action, is expected to create an unforgettable experience for players and spectators alike.
 As the 7th International Hemja Gold Cup approaches, the excitement in Pokhara and beyond is palpable. Football fans, sponsors, and participating teams are all eagerly awaiting the kickoff in Kartik 2080 B.S., as they prepare to witness a memorable week of football excellence.
POKHARA STADIUM - 10% WORK IS STILL LEFT