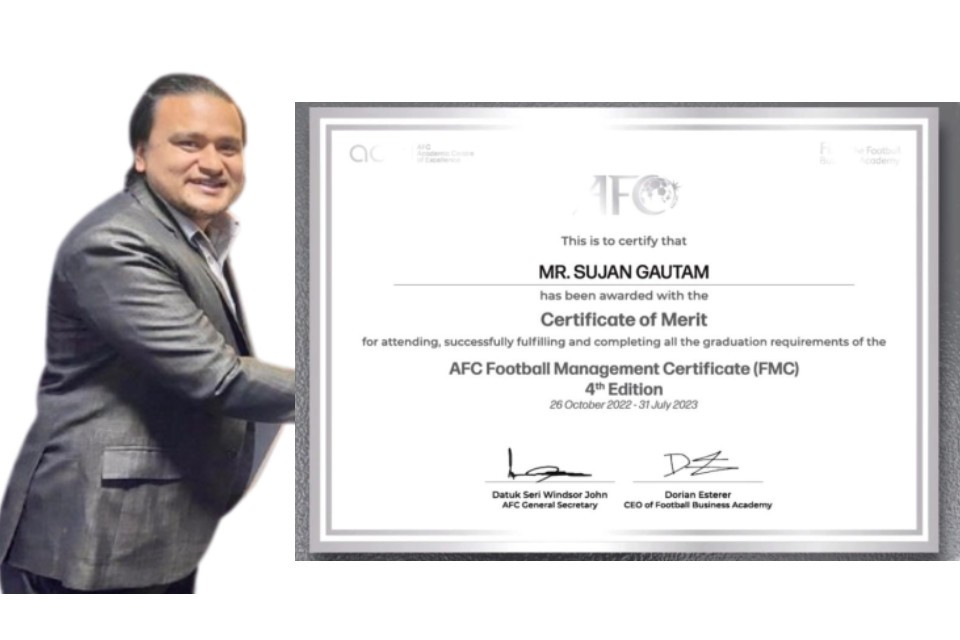 Jhapa FC's general secretary, Sujan Gautam has graduated AFC Football Management Course in merit list.
Designed under the AFC Academic Centre of Excellence (ACE), an innovative online education platform that embodies excellence, innovation, and a profound passion for football education, the FMC programme aims to produce proficient football management professionals across Asia.

Among the accomplished graduates were two distinguished individuals from Nepal who demonstrated exceptional dedication and talent throughout the programme. Bikram Lama, an esteemed former National Men's Football Player, and Sujan Gautam, an independent candidate and General Secretary of Jhapa FC Private Limited, showcased their commitment to excellence and emerged as beacons of success, with Mr. Gautam also earning a well-deserved place in the merit list of the 4th edition.

Introduced in 2021, the FMC programme is centered on equipping participants with specific skillsets and industry knowledge through proprietary modules. These modules offer invaluable insights into the intricacies of the game within the Asian context, empowering graduates to oversee daily football management operations with unparalleled effectiveness and efficiency.
The programme's fourth batch, consisting of ambitious individuals from AFC Member Associations (MAs), Regional Associations (RAs), and independent stakeholders, recently concluded their eight-month journey, emerging equipped with comprehensive knowledge, practical skills, and cutting-edge tools to take Asian football to new heights. Spanning over an intensive 290 study hours, participants attended virtual lectures, engaged in thought-provoking discussions, completed various assessments, and presented insightful business projects.

The AFC's pioneering FMC programme has undoubtedly laid the foundation for a brighter future for Asian football, cultivating a new generation of astute football management professionals who possess the acumen and expertise to bring about positive transformations within the sport.

As the football world eagerly watches the progress of these trailblazing graduates, GoalNepal would like to extend our heartfelt congratulations to Bikram Lama, Sujan Gautam, and their peers on their remarkable achievements. With their newfound knowledge and passion, we have no doubt that they will play a pivotal role in shaping the future of Asian football. Together, they will usher in an era of excellence, innovation, and unprecedented success for the beautiful game in the region and beyond.

Here's to a prosperous and promising future ahead!