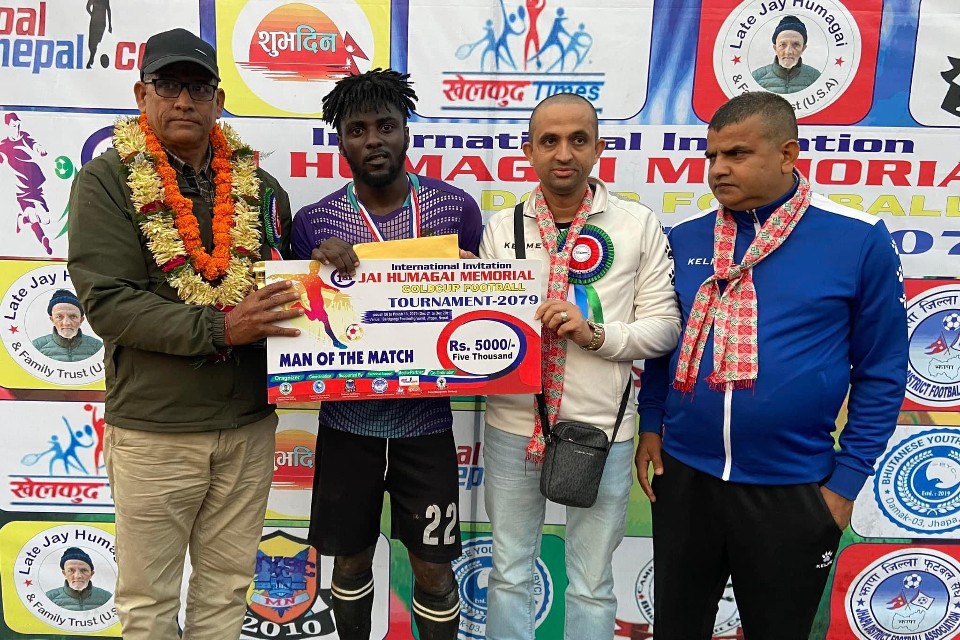 Jhapa (GoalNepal) - Avenir FC, Cameroon have qualified into the semifinals of the International Invitational First Jai Humagai Memorial Gold Cup Football Tournament. Avenir defeated BYC, Beldangi, Jhapa 5-0 to make it into the final four.
Stefan of Avenir was named the player of the match. He received Rs. 5,000 and a trophy.
BYSC, Minnesota, USA and UKFC, Darjeeling, India will face each other tomorrow in the final quarterfinal of the tournament.
The tournament is being organized by Late Jai Humagai & Family Trust (USA). A total of eight teams, including teams from India, USA and Cameroon, are participating in the tournament.
The competition winners will get five lakhs in cash and the title, while the runner-ups will get three lakhs. The final will be held on Poush 13.
GoalNepal is broadcasting the tournament live on its platforms which will have the technical support of the Jhapa Football Association.
JALTHAL FC JHAPA ENTERS SFs 2nd BHAGIMAN MEMORIAL CUP