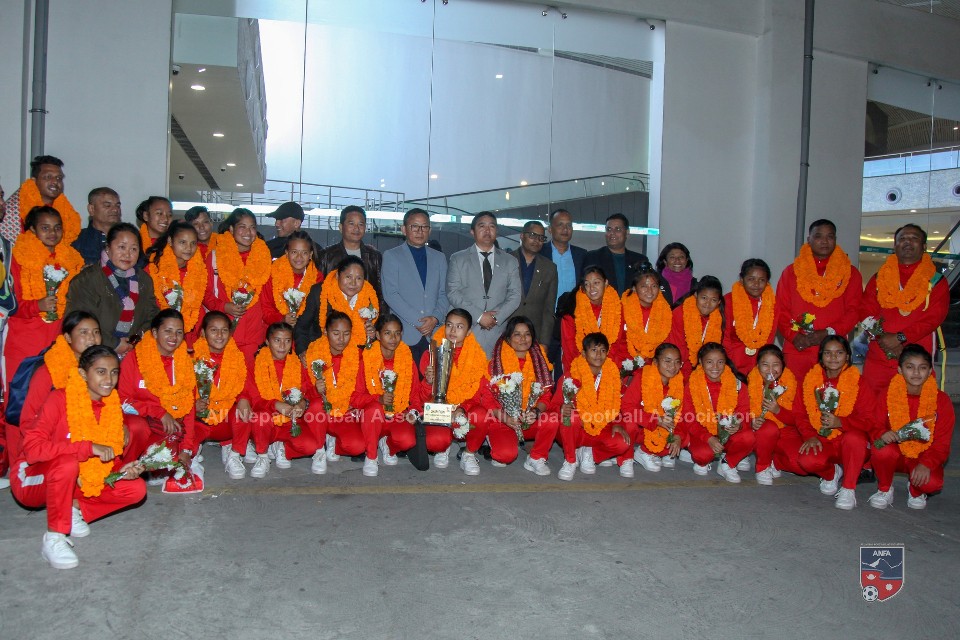 Kathmandu (GoalNepal) - SAFF U-15 Women's Championship-winning Nepali side have returned home.
The Nepali contingent landed at Tribhuvan International Airport at 5:40 pm via Himalayan Airlines flight. National Sports Council Member-Secretary Tankalal Ghising and ANFA president Pankaj Bikram Nembang along with other ANFA dignitaries, welcomed the team at the airport.
Nepal finished at the top of the standings in the SAFF U-15 Women's Championship to win the title.
Nepal held Bangladesh to a 1-1 draw in the tournament's final match to finish at the top of the table and win the title. Nepal needed to avoid defeat to lift the title.
Hosts Bangladesh needed all three points today to finish ahead of Nepal and win the tournament. But Nepal came away with what was needed to win the title.
Nepal, Bhutan and Bangladesh contested in the tournament. Nepal defeated Bhutan 7-0 in the first match while narrowly going past Bangladesh in the second. Nepal had to fight hard to come away with a 1-0 win against Bhutan in the third match.