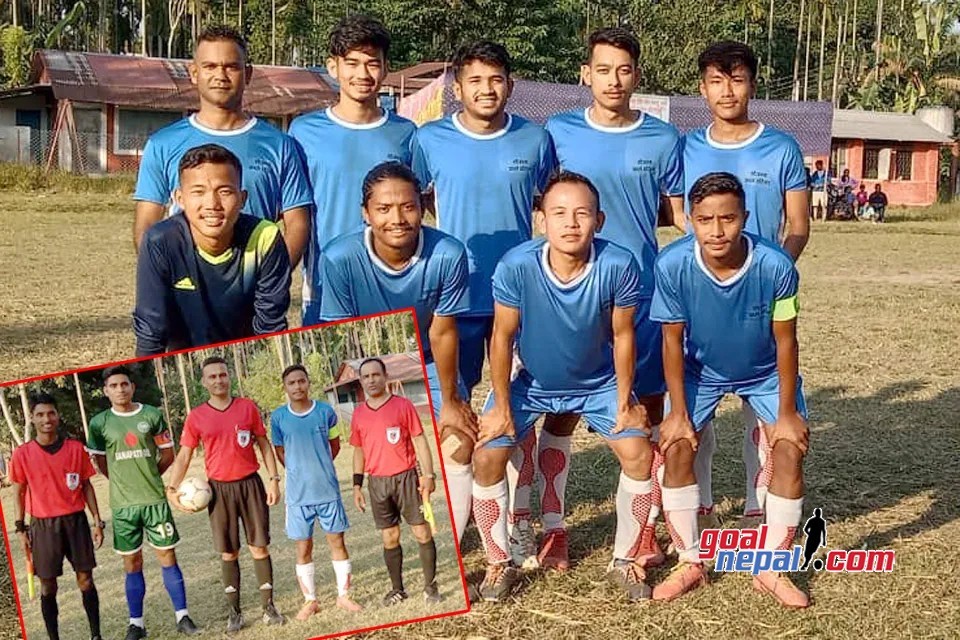 Jhapa - Hosts Manaslu Youth Club have entered the final of the ANFA Referee Late Khem Tamang Memorial Football Tournament held at Arjundhara 9, Jhapa. In the tournament's second semi-final, the Manaslu secured a place in the final by defeating Birtamod United Club, Birtamod 3-1. Bishal Darji, Rajesh Dahal and Roshan Magar scored for the hosts, while Birtamod's Surya Tudu pulled back one goal for Birtamod.
Within two minutes of the start of the game, Bishal Darji scored an attractive goal for the hosts and gave the team the lead. Similarly, Rajesh Dahal doubled the lead by scoring in the 20th minute of the game.
In the 23rd minute of the game, Surya Tudu scored for Birtamod and tried to get back into the game. However, for the hosts Manaslu Youth Club, Roshan Magar scored another goal in the 59th minute of the game to secure a place in the final.
With the victory of the hosts, the meeting with well-known rival Shanishchare FC in the final competition has been confirmed. Bijay Rai was declared the man of the match. He got Rs. 1,500 in cash.
The winners will get Rs. 50,000 in cash and the runners Rs. 25,000 in cash.
Jhapa District Referee Association and Jhapa District Football Association have direct support in the competition organized by the local Manaslu Youth Club in memory of ANFA Referee Tamang. The will be held on Monday.
JALTHAL FC JHAPA ENTERS SFs 2nd BHAGIMAN MEMORIAL CUP