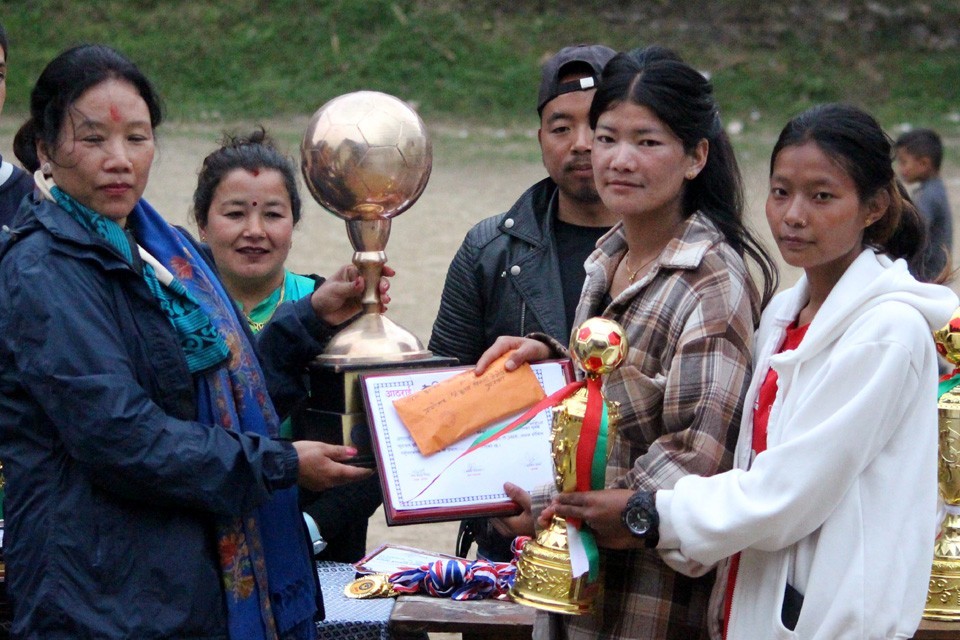 Karmasin Sonam Smriti Club of Taplejung has won the title of Shrikrishna Memorial Football Tournament organized on the occasion of the historic Atharai Madan Mela 2078 BS. In today's final match, they defeated PYC, Panchthar, Faktep 1-0 to retain the title.
In the final match of the competition held at the Tri-Mohan Mavic Stadium, Taplejung clinched the title with a decisive goal by Sanam Rai. Mamata Raut of Panchthar was declared the best player in women's football and got Rs 2,500 in cash.
Alex Chaudhary of PYC, Alija Limbu of Taplejung and Sanam Rai of Taplejung were the top scorers. They each received 2,500 cash and trophies. The club of Atharai Madan Mela Organizing Committee has received a 5,000 rupees cash prize for being the most disciplined team in the tournament.
The winner of the eight-team competition, Taplejung, received Rs 65,000 in cash and a trophy, while the runner-up, Panchthar, received Rs 40,000 in cash and a trophy.
In the program organized by the organizing committee of Atharai Madan Mela 2078, competitions were held in 10 different categories.
Friendly Match: Nepal U15 Girls Team Vs Bhutan U15 Girls