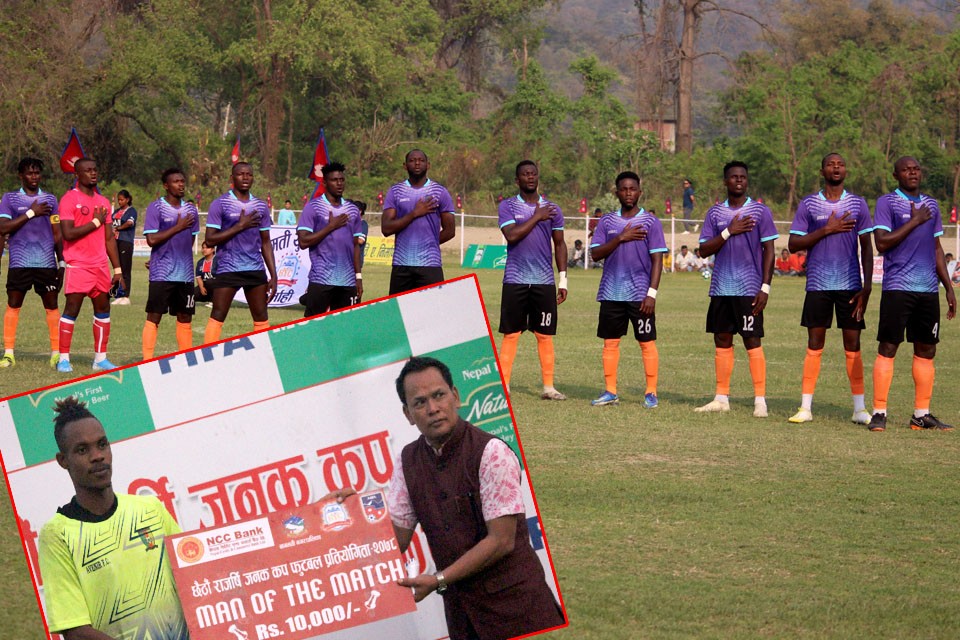 Avenir FC defeated APF FC on penalties to enter the quarterfinals of the sixth Rajarshi Janak Gold Cup 2078. After a 1-1 draw in regulation time, the match was sent to penalties. Roni, Avenir skipper had opened the scoring in the 38th minute of the match. After that, many opportunities were wasted and some of the shots were saved by APF goalkeeper Kuriyama.
APF had to wait until after the 80th minute to come back in the game. Substitute Sabin Gurung equalized for APF in the 82nd minute and the match was sent to penalties where Avenir came out on top 4-2.
Cards were raining during the whole duration of the match. A total of 13 cards were shown by the referee Nabindra Maharjan including two red cards. Josephine and Atoka were forced to leave the field after receiving double yellow cards.
Rodrigwe, Avenir goaljeer became the man of the match with his one goal and one assist. He received Rs. 10,000 cash.
Piple Youth Club, Hetauda and Himalayan Sherpa Club will face each other in the first quarterfinal on Sunday..
Bagmati Municipality and Bagmati Youth Club are jointly organizing the tournament, which has a winning purse of Rs. 10 lakh.
6th Rajarshi Janak Cup: Bagmati Vs New Road Team - Match Highlights