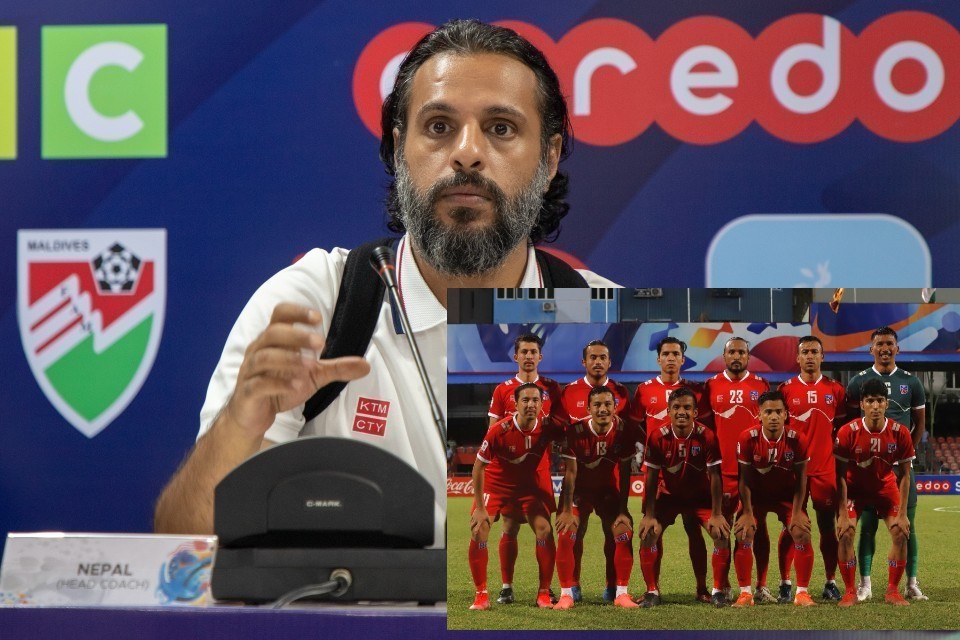 Nepal head coach Abdullah Almutairi has announced 34-member preliminary squad for Mauritius friendly series.

Nepal is hosting African nation in a two match friendly series on January 19 & February 1, 2022.

Some new players have been included in the team whereas experienced Rohit Chand isn't in the list. Rohit plays with Persija Jakarta in Indonesia.
Preliminary squad:
Bishal Shrestha (GK) (Machhindra Football Club)
Deep Karki (GK) (Himalayan Sherpa)
Kiran Kumar Limbu (GK) (Maziya S&RC)
Satrughan Chaudhary (GK) (Nepal Police Club)
Tikendra Thapa (GK) (Jawalakhel Youth Club)
Aashish Lama (APF)
Ayush Ghalan (Three Star Club)
Akash Buda Magar (Satdobato Youth Club)
Ananta Tamang (Three Star Club)
Anjan Bista (Manang Marsyangdi Club)
Arik Bista (New Road Team)
Bimal Gharti Magar (Machhindra Football Club)
Bishal Rai (Machhindra Football Club)
Darshan Gurung (New Road Team)
Devendra Tamang (Machhindra Football Club)
Dinesh Henjan (Tribhuvan Army Football Club)
Dinesh Rajbanshi (Manang Marsyangdi Club)
Gautam Shrestha (Tribhuvan Army Football Club)
Kamal Thapa (Himalayan Sherpa Club)
Krittish Ratna Chhunju (New Road Team)
Manish Dangi (Machhindra Football Club)
Nabin Gurung (New Road Team)
Nitin Thapa (Manang Marsyangdi Club)
Pujan Uperkoti (Manang Marsyangdi Club)
Santosh Tamang (Tribhuvan Army Football Club)
Subash Gurung (Sankata Club)
Sudip Gurung (Satdobato Youth Club)
Sujal Shrestha (Machhindra Football Club)
Suman Aryal (Tribhuvan Army Football Club)
Suman Lama (Nepal Police Club)
Sunil Bal (Machhindra Football Club)
Suraj Jeu Thakuri (Jawalakhel Youth Club)
Sushil Rai (Satdobato Youth Club)
Tej Tamang (Nepal Police Club)