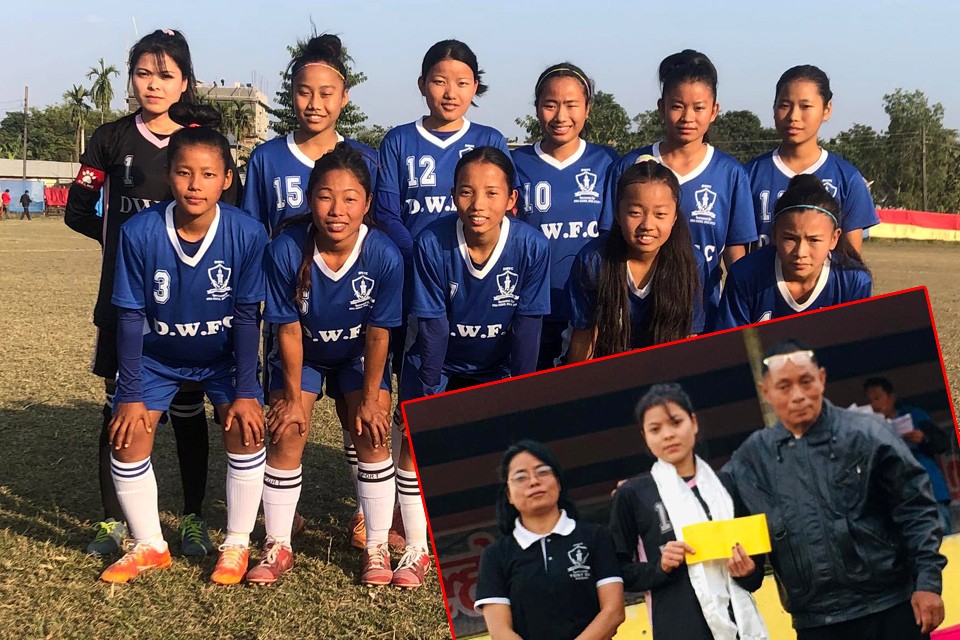 Dharan Women's Football Club has entered the final of Tamu Lhosar Gold Cup International Women's Knockout Football Tournament. Dharan entered the final by being victorious in a tiebreaker.
Dharan secured a place in the final by defeating the Royal Sporting Club of Damak 3-2 on penalties of the first semi-final played at Domalal Rajbanshi Stadium in Birtamod today. The decision was taken by the tiebreaker after both teams played a goalless draw in the scheduled time of the game.
Dharan, who had a good chance in the first half of the game, could not score and had to wait for a tiebreaker to win. Despite making a good move, Samiksha Magar failed to score.
In the end, Dharan won the tiebreaker. Kopila Limbu, Rangeela Rai and Samiksha Magar's strike turned into a goal while Pratiksha Rai and Ayusha Rai's strike was saved by Damak goalkeeper Sajia Chhetri.
For Damak, only Sanju Rai and Imma Rai's shots were converted into goals, while Chhatrika Chaudhary and Savitri Magar's shots were saved by Dharan's goalkeeper Sima Ale Magar while Mamata Raut's strike evaded the goalpost.
Goalkeeper Sima Ale Magar of Dharan became the player of the match. She was given cash by DK Gurung, president of Birtamod Football Club. With the victory, Dharan has secured at least Rs. 51,000.
The winners of the second edition of the competition will get Rs. 111,111, trophy, medals and certificates while the runners-up will get Rs. 51,111, trophy, medals and certificates. The competition is being organized on the occasion of the great festival of the Gurung community, Tamu Lhosar.
JALTHAL FC JHAPA ENTERS SFs 2nd BHAGIMAN MEMORIAL CUP