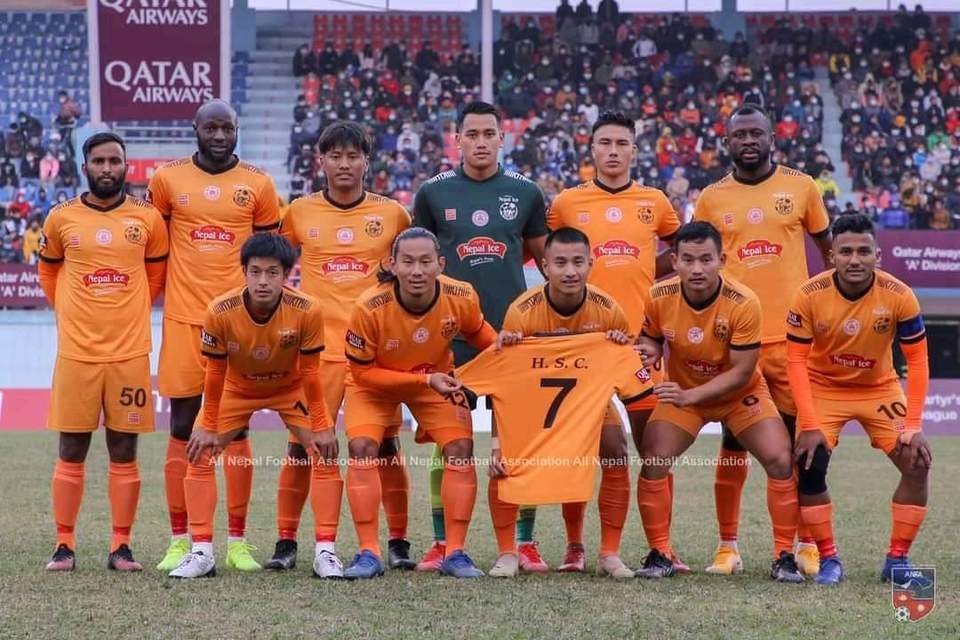 Himalayan Sherpa Club climb to eighth in the league table after a 3-1 win over the Brigade Boys Club at the Dasharath Stadium in the ongoing Martyr's Memorial A Division League.
HSC defeated BBC with the help of goals from Mutamba Pistone, Suresh Kumal and Manish Thapa. Bhuwan Basnet scored the only goal for BBC.
Mutamba Pistone gave an earrly breakthrough for Himalayan Sherpa Club. He headed home from a ball in from the skipper Bishwas Shrestha over the BBC keeper Anjal Shrestha who was stuck as he saw the ball sail over his head. The first half ended 1-0 in favour of HSC.
In the second half, BBC equalised through substitute Bhuwan Basnet. The substitute equalised for BBC with a thumping finish. A Shishir Lekhi ball down the right was hit with power by Bhuwan at the near post but Deep Karki, HSC GK couldn't keep it from going into the net. The goalkeeper should have saved that.
BBC came back guns blazing with more confidence after equalising until the 74th minute. Suresh Kumal finished beautifully to take the scoreline to 2-1 in favour of HSC. Anjal Shrestha was off his line and on the edge of the box and Suresh Kumal chipped the ball over the keeper to score. A flying volley into the back of the net.
HSC had created a few more chances to extend the lead that came at the very end. In the fourth minute of the stoppage time, Manish Thapa scored for HSC to take the scoreline to 3-1. He was Yugal Kishor Rai's second substitute to score today.
Bishwas Shrestha's ball found Manish inside the box and Anjal Shrestha was off his line but he couldn't keep the ball from going into the back of the net.
With this win, Himalayan Sherpa Club have five points from five matches while Brigade Boys Club also are level on points with them but are below them due to the inferior head-to-head record.
Himalayan Sherpa Club will face Chyasal Youth Club in the next round of fixtures while Brigade Boys Club will go up against Sankata Club.
6th Rajarshi Janak Cup: Piple Vs Himalayan Sherpa Club - Match Highlights