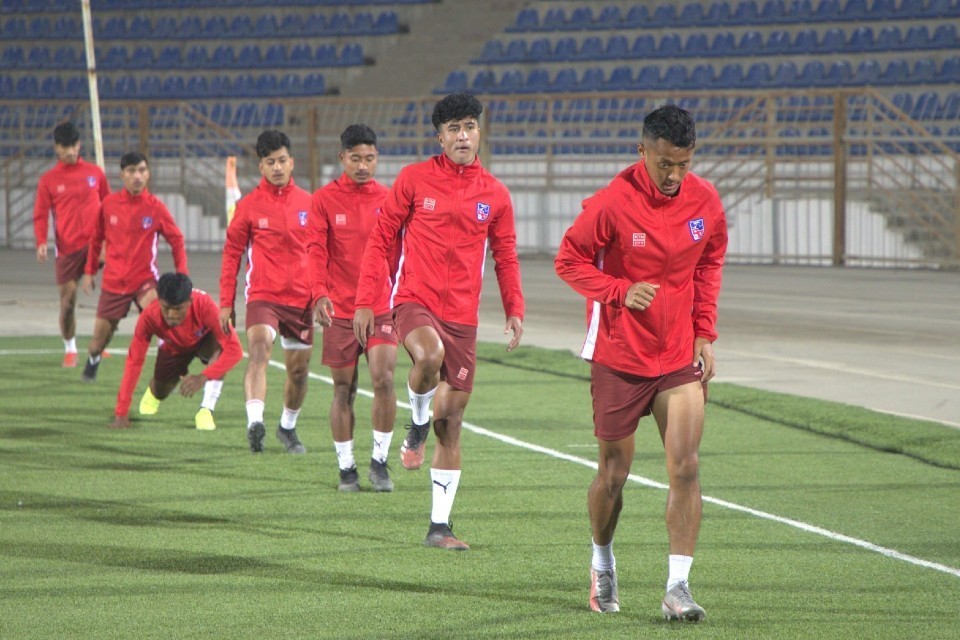 Nepal U23 lost 0-2 to Indonesia U23 in a friendly match played in Dushanbe, Tajikistan on Friday.

Here is the update from the match:

* Both teams have finished their warm ups.

* The match is about to kick off.

* Arpan Karki (C), Suman Aryal, Abhishek Limbu, Suraj Jeu Thakuri, Gautam Shrestha, Roshan Pahari, Aayush Ghalan, Nitin Thapa, Darshan Gurung, Manish Dangi, Abhishek Rijal.

1' Peeeeeep!

2' Indonesia U23 started the game with proper ball control.

3' Arpan Karki is the captain of Nepal U23.

7' Nepal is playing aginst Indonesia to tune up ahead of AFC U23 qualifiers that start from October 25 in Dushanbe. First dangerous move from Indonesia U23. Firli's header goes little above the bar.

11' Another move from Indonesia U23. Good header from Komang, ball goes little high above the bar. Nepal U23 0 Indonesia U23 0.

14' Nepal U-23 team is relying on counter moves.

17' Indonesia is keeping the ball possession. In fact, Nepal U23 defense line looks compact. Nepal U23 0 Indonesia U23 0.

20' Nepal U23 0 Indonesia U23 0. Nepal playing deep down. They need to create chances. No need to worry about the loss because this is a friendly match.

21' Free kick to Indonesia. Good save by Nepal U23 GK Arpan Karki.

24' No such dangerous moves from Nepal so far. Nepal U23 0 Indonesia U23 0.

29' Yellow card to Indonesian player Feby Eka.

30' Good cross in from Indonesia U23 winger, Nepal U23 GK Aarpan Karki saves the ball.

32' Three subs from Indonesia U23 in the first half !

35' Nepal U23 0 Indonesia U23 0.

40' Indonesia U23 still controls the ball possession but they ae unable to break Nepal defense line.

45+1' HALF TIME. Nepal U23 0 Indonesia U23 0.

46' Second half starts..Nine changes from Indonesia U23.

51' Indonesia starts second half with same story, keeping ball possession with them.

55' GOAL! Indonesia makes it 1-0 up. Hanis Saghara scores.

57' Finally, Nepal opens up with their attack after conceding the goal.

60' 30 mins remaining on the clock. Indonesia U23 1 Nepal U23 0

65' Nepal U23 still trailing by a goal.

73' Nepal U23 0 Indonesia U23 1. Slightly improvement in Nepal game but they lack urgency in their attacks.
75' Good moves being created by Nepal lately. But Indonesian defense line is able to thwart them.

80' Nepal U23 going all out against Indonesia U23. They opened up lately.

85' GOOOD CHANCE for Nepal. Lovely attack but what a save from Indonesia U23 GK Ernando.

90' Four minutes of added time.

90+2' Nepal launching full attacks. Indonesia U23 is busy defending the lead.
90+3' GOAL ALERT ! Witan Sulaeman scores for Indonesia in a counter move. Indonesia U23 2 Nepal U23 0.
FULL TIME. Indonesia U23 wins the match 2-0.
Note: No streaming. Played behind closed doors.

This Update is brought to you by:

Remitap Nepal, Khalti Digital, New Balance Nepal, Yamaha Nepal, Biratnagar City FC, Hamro Football Nepal, Mount Everest Sports & Events, KTM CTY, Dish Home, Biba Mart
AFC U23 Qualifiers: Nepal U23 Vs Iran U23 - Match Highlights