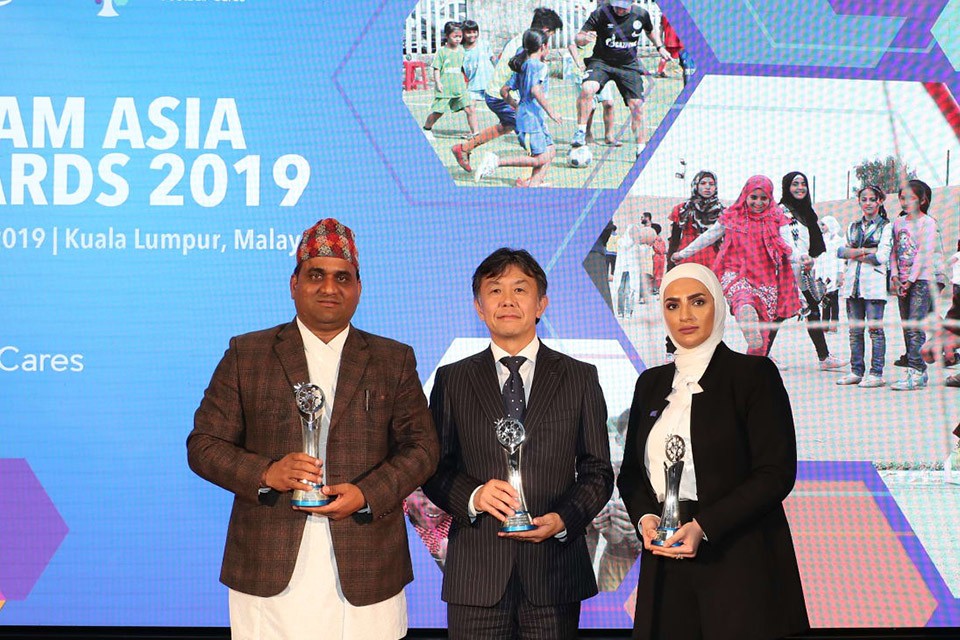 The Japan Inclusive Football Federation (NGO), Shell Qatar's Koora Time Programme (Corporate) and Nepali journalist and filmmaker, Bhojraj Bhat (Individual) won the Asian Football Confederation (AFC) Dream Asia Awards 2019 held in conjunction with Wednesday's AFC Social Responsibility Conference in Kuala Lumpur, Malaysia.

The three worthy winners, who were chosen from a record 27 strong applicants this year, will receive USD$10,000, enabling them to bolster their social responsibility programmes alongside the AFC.

Filmmaker Bhojraj Bhat made international headlines with his moving 2015 documentary Sunakali, which cast the spotlight on a group of aspiring teenage female footballers from the remote and mountainous district of Mugu in Nepal.
The documentary was shown in more than 130 film festivals across Europe, and also won more than 20 awards. Bhat's authentic portrayal of the challenges faced by the footballers not only garnered international recognition but paved the way for the girls' participation in the Donosti Cup in Spain.
In highlighting their compelling story, Bhat continues to advocate social change and best encapsulates the power of the beautiful game as a tool to inspire hope and to thrive against-all-odds.
Chairman of the AFC Social Responsibility Committee, Mr Zaw Zaw said: "Social Responsibility is a key focus area for the AFC and already, through the AFC Dream Asia Foundation and these awards, we have witnessed the incredible strides and growth of our efforts as one united Asian footballing family, to use football as a powerful tool for social development.
"The record 27 applicants received this year reinforces that our spirit of partnership is stronger than ever, and we are in the best possible position to fulfil our purpose to empower communities and inspire hope through football."

Shelter Ashraya Nepal (Silver) and Childreach Nepal (Bronze) also received awards in NGO category.
6th Rumpum Udayapur Gold Cup: Morang Stuns Nepal Police - MATCH HIGHLIGHTS