Province 7
Far Western Province's Girls Team Off To Kathmandu
Far Western Province's Girls Team Off To Kathmandu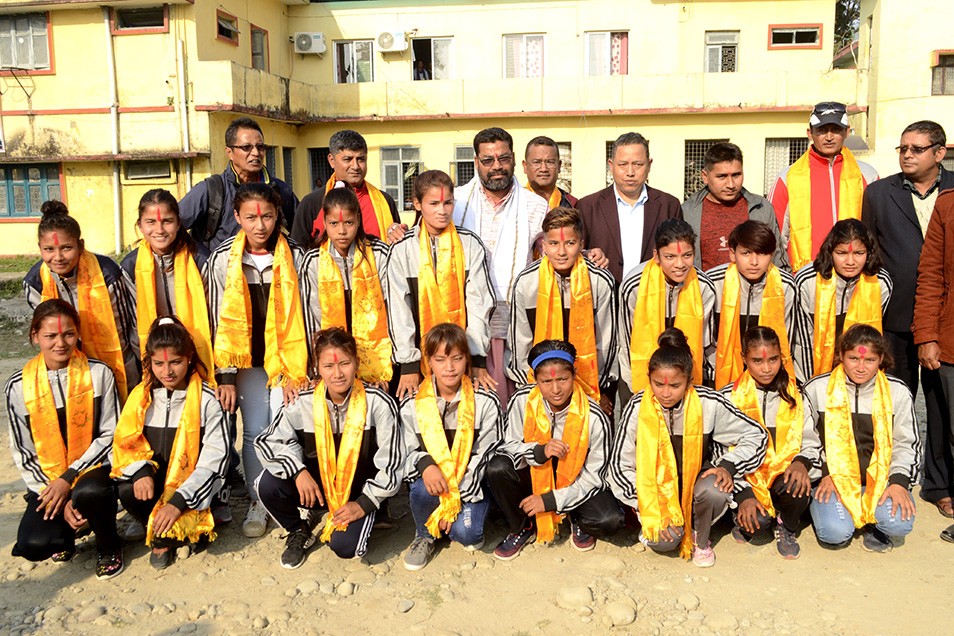 Far Western province's girls team have left for Kathmandu to compete in CoAS 6th international championship.

Nepal Army is organizing the championship from Mangsir 5 in Kathmandu.

Seven provinces, three departmental teams and two teams from India are taking part in the team.

Dhangadhi sub-metro mayor Nrip Oad and other guests bade the team farewell in Dhangadi on Monday.

Lalit Chand is the coach of the team.

Kailali DFA president Mohit Shah, former DFA president Prakash Bista also wished good luck to the team.

Squad:

Surakshya Singh, Manish Okheda, Punam Farswan, Pratikshya Chaudhary, Swostika Ranamagar, Bhagwati Sapkota, Binita Bohora, Ashmita Chaudhary, Priyanka Rana, Manisha Thagunna, Nilam Singh, Kamala Bista, Sima Rawal, Anjali Chand, Dipa Rokaya, Birsana Chaudhary, Kaplana Thapa, Jamuna Kunwar.
Far Western Khaptad Gold Cup: Far Western Vs Chyasal Youth Club Spot Kick Battle - VIDEO