Province 4
Thamel-11 Win Bagar Bhai Khalak Veterans Cup
Thamel-11 Win Bagar Bhai Khalak Veterans Cup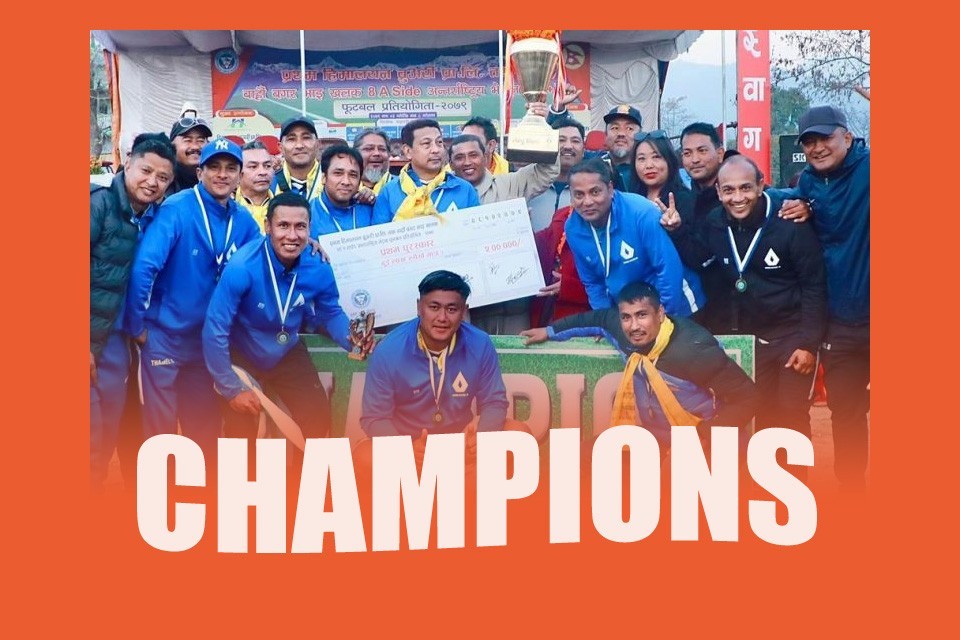 Thamel-11 have won the title of the first Himalayan Brewery and 12th Bagar Bhai Khalak Veteran Cup eight-a-side football tournament.
In the final, Thamel Veteran won the title by defeating Deep United Veteran, Pokhara 2-1 in a tiebreaker. Before that, both the teams played a goalless draw in the scheduled time.
Sanjib Khadgi, the goalkeeper of Thamel Veteran, was elected as the man of the match in the final match. Thamel Veteran, who became the winner, received two lakhs in cash along with the title, while the runners-up, Deep United received one lakhs.
Deep United's Pravin Kumar became the best player of the tournament. He received 15,000 cash and a trophy as an award. Thamel's Sanjib Khadgi was selected as the best goalkeeper and Tasi Chhiring of Thamel was also declared as the best defender.
Antim Gurung was named the best midfielder while Sagar Thapa was named the best forward. Thamel's Pradip Shrestha was also declared the best coach. All those who excelled in the individual category received 5,000 each and a trophy.
The winning players were awarded by the chief guest of the closing program Gandaki Province Sports Council Member Secretary Ghanshyam Paudel and other guests. A total of 24 teams from Nepal and India participated in the tournament which started on Magh 3rd organized by Bagar Bhai Khalak, Pokhara.