Province 2
Ramechhap Cup From Ashoj 10
Ramechhap Cup From Ashoj 10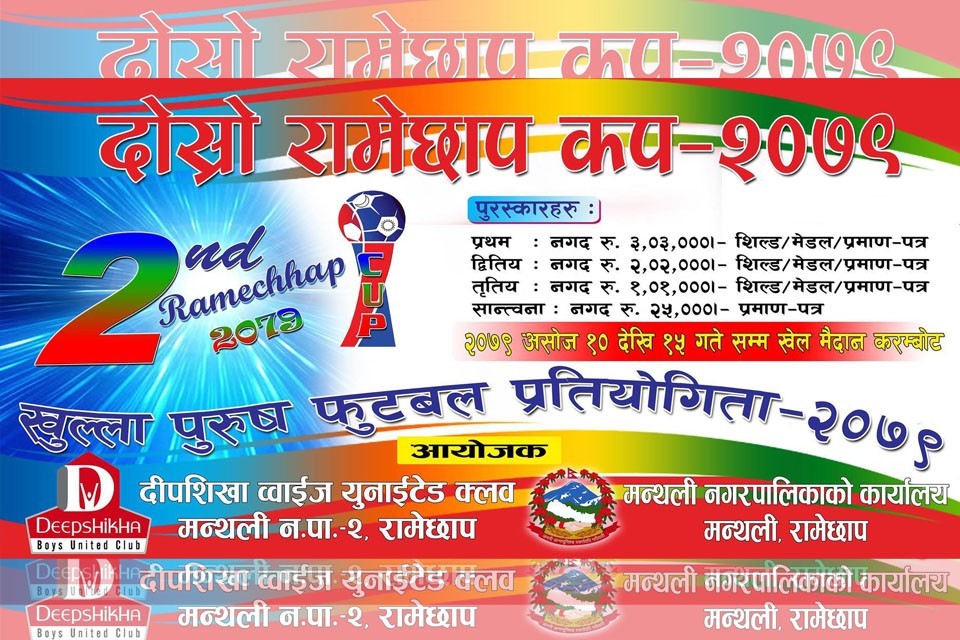 The second Ramechhap Cup Open Men's Football tournament is going to be organized at Manthali, the district headquarters of Ramechhap.
According to Ashish Karki, president of Dipshikha Boys United Club, the organizers, the competition will be held at Karambot Sports Ground located in Ward No. 2 of Manthali Municipality from Ashoj 10th to 15th. According to him, the sponsor of this competition is Manthali municipality.
Nikun Karki, the vice president of the host club, said that the Ramechhap Cup football competition is not only related to the prestige of Manthali, but the Ramechhap district as well.
According to him, it is estimated that clubs from five districts will participate in the competition. The winners of the Ramechhap Cup will get a cash prize of three lakh three thousand rupees along with the title, while the runners-up will get a cash prize of two lakh two thousand rupees. The third-placed club will receive a cash prize of one lakh one thousand and the club that wins the consolation position will receive Rs. 25,000 in cash.
Kishor Thapa, secretary of the club, informed that attractive prizes have also been arranged for the best players in various categories.