Province 1
Jhapa FC Reveals Their Club Partner In Australia
Jhapa FC Reveals Their Club Partner In Australia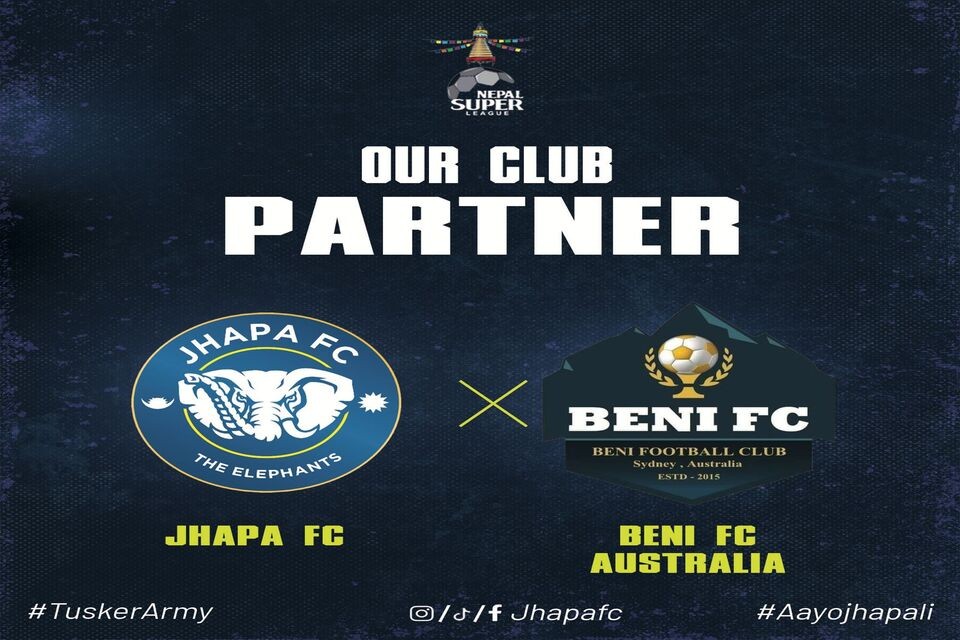 Jhapa F.C., a prominent contender in the Nepal Super League, has solidified a strategic partnership with Beni FC, Australia, a Nepali community-based football club located in the Australia.

This synergistic collaboration signifies a crucial step in expanding the reach and influence of Jhapa F.C. and fostering the growth of Nepali football both domestically and internationally.
Under the terms of this agreement, Jhapa F.C. and Beni F.C. will engage in player exchanges and cultural initiatives.

Additionally, the partnership will facilitate various football-focused activities and promote cultural exchange between Nepal and the Australia.

The primary goal of this association is to elevate and disseminate football culture while providing a platform for emerging talents to exhibit their skills on the global stage.
Mr. Arpan Bikram Khadka, President of Jhapa F.C., expressed his enthusiasm for this historic partnership, stating, "We are delighted to join hands with Beni F.C. We consider this partnership as the inception of a larger effort to unite football-loving Nepali across the world."

"Beni F.C. is honored to partner with Jhapa F.C. in our shared quest to enhance Nepali football's development. This collaboration reflects our steadfast commitment to promoting Nepali football and culture. Together with Jhapa F.C., we are thrilled to contribute to the growth of the sport and perpetuate the Gorkhali spirit.", the club said in a release.
JALTHAL FC JHAPA ENTERS SFs 2nd BHAGIMAN MEMORIAL CUP