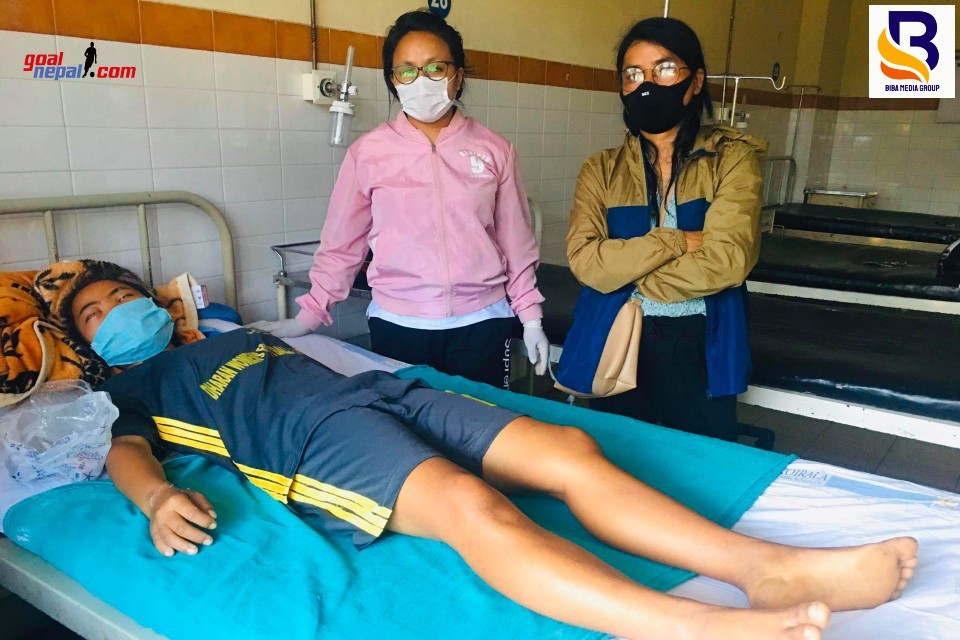 GoalNepal has ended fund raising campaign for ailing Samikchya Magar.

Magar, a football player who lost her eye sight in a freak accident in Belaka, Udayapur, is undergoing treatment at Biratnagar Eye hospital.

GoalNepal decided to run fund raising campaign as her parent's financial condition isn't sound.
GoalNepal raised more than Nrs 6 lakh which will be used in her treatment plus in rehabilitation process.

ANFA have also confirmed that they would cover all medical expenses.

CEO of Biba Media Group, Mr. Bikram Thapa thanked everyone for the support.

"GoalNepal community is so united for the players and for the game. On behalf of Biba Media group, I would like to thank all for their valuable support. We wish player Magar a speedy recovery. We also would like to thank ANFA for covering all expenses of her treatment", said Thapa.

Thapa also thanked coach Bhagwati Rana Magar for her tireless effort in the fund raising campaign and ANFA media committee member Manoj Himalayan for the coordination in the treatment of Magar.

Day 1:
GoalNepal: Nrs 10,000
Birat Shangrilla Sporting Club: Nrs 25,000
Nepal national team: Nrs 30,000
Nepal national U23 team: Nrs 10,000
New Balance Nepal: Nrs 10,000

Day 2:
Nepal women's team: Nrs 50,000
Coach Bhagwati Rana Magar & Family: Nrs 25,000
Suraj Budhathoki: Nrs 10,000
Hem Roka: Nrs 10,000
Mukesh Kumar Singh: Nrs 2000
Prayas Pratap: Nrs 2500

Day 3:
Anita Shrestha: Nrs 26,000
MMC: Nrs 30,000
Mayor Bhim Parajuli: Nrs 25,000
Mayor Durga Kumar Thapa: Nrs 20,000
Rezzyhangma Limbu: Nrs 15083
Belbari Naksalbari Club: Nrs 16,000

Day 4:
All Nepal Women Football Association: Nrs 12,000
Chulachuli FC & Chulachuli youth supporters: Nrs 16,200

Day 5:
Ramesh Rai /Bal Sunuwar & Nima Gyala Sherpa from Dharan-17: Nrs 15000
Chandrakala Rai 10,000

Niroj Shrestha: Nrs 7,000
Unknown: Nrs 5,555

Upendra Bista: Nrs 5032
CB Tamang: Nrs 5000

Sudip Limbu: Nrs 5000

Sajina Lama: Nrs 3473
Sunil Marshall Karmacharya: Nrs 2000
Aarpan Bikram Khadka: Nrs 5000

Total: 6,33,613/-

(Note: If we have missed any name in the donor list, please kindly update us with a message to goalnepalfund@gmail.com or through our FB inbox.