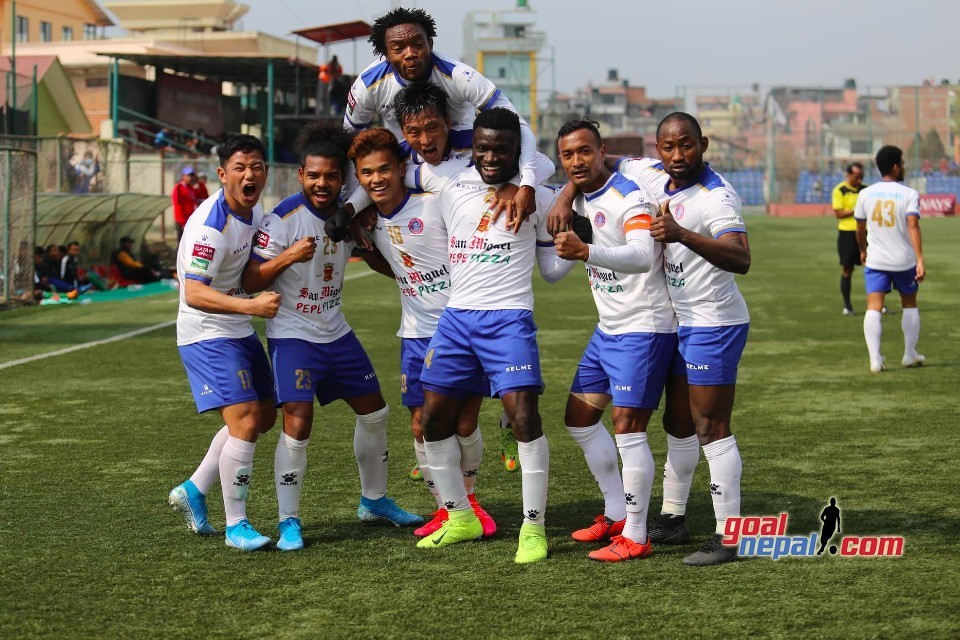 By Sushil Thapa,Fairfax,VA


Winning the Martyr's Memorial A Division League, Nepal's top flight competition,is a dream come 
true for any team.


The pride,importance and joy of winning the biggest domestic trophy is literally overwhelming.
 No wonder, every team strives for excellence and success year after year.


The accomplishment assumes greater significance for the team that wins the Kathmandu
 league for the first time.
 First time winners Machhindra Football Club achieved the feat, much to the surprise of 
everyone.

They faced high odds to win the tourney at the start of the season.
They made a slow start but gathered the much needed momentum and tempo in the later
 stages of the grueling competition. Rest is history. 
By clinching the title, Machhindra Football Club has carved a niche for themselves in domestic
 football. The overall performance was key to their success. They played a consistent, compact
and positive brand of football throughout the competition.
 More importantly, they delivered the goods when it mattered most.

In the decisive match
 against Tribhuvan Army Club, they were in a must win situation. They did not disappoint as they 
rose to the occasion and sealed the deal in style.
They stuck to their game plan,displayed solid composure,confidence and determination to
upset the opposition.
Champions Machhindra Football Club deserve to bask in glory. They had been under the 
shadow of dominant A list teams in the likes of Three Stars Club (TSC) Manang Marshyangdi
Club (MMC) and Nepal Police Club(NPC) for a considerable period of time.


With the league title in their kitty, they are the newest powerhouse in Nepal football. Apparently,
it was a culmination of hard work,commitment,collective effort, intelligent recruiting, sensible
planning and preparation.
Congratulations on your well deserved success. Keep in mind, this is only the beginning of a
long journey. Moving forward, they must prove that the league title was not a flash in the pan. 
It is imperative that the Club remain totally focused and committed,continue to play total football,
carry the drive and hunger to achieve more success in domestic football and beyond.

The Club has to exercise good governance, professionalism and effective management when it
comes to planning, handling and preparing the team for short and long term challenges and
goals.
Once again, it was a tale of so close yet so far for second placed Tribhuvan Army Club. They 
stumbled at the final hurdle, squandering the chance to win the title,which they have been
desperately seeking for several decades,
Going into the decisive game against Machhindra Football Club, they were advantageously 
positioned needing a draw only. However,they failed to put the final nail in the coffin. Clumsiness
and lethargic play contributed to their downfall.
 It is hard to believe that a dominant outfit like the army that has won every major domestic
tournament is yet to win the Kathmandu League.


The other two strong contenders and multiple winners MMC and TSC failed to make an
impact.They were far from their best and paid dearly for their mediocre performance.
 Likewise, NPC, once a heavyweight of Nepal football struggled for the most part. They played
 poorly, inconsistently and never got going. 
Another departmental team, the Armed Police Force barely escaped the relegation
 embarrassment. They performed below par and mightily struggled.
 Saraswoti Youth Club faced the relegation axe, following their bottom place finish.While Brigade 
Boys Club managed to hold their place by the skin of their teeth.


Foremost, the management of every participating Club must take good care of their players,
physically and financially.They must protect and enhance their mental and physical well -being.
 Unfortunately, the majority of Clubs are without infrastructure (equipped with modern day
 equipment), training facilities and playing grounds, all important factors in the development of 
successful players and advancing the game to a higher level.
There was no dearth of foreign players in the league. The rise of international players in the 
league is a recent phenomenon and a positive sign.


Despite the financial crunch, most clubs stepped up to sign foreign players with sole objectives 
to become more competitive and bolster the league's profile.
On the bright side, the league featured a host of young promising local players. Also in action
 were a bevy of foreign players totalling 40 from Guinéa, Nigeria, Cameroon, India, Japan,
Brazil,Egypt,Ivory Coast, Mozambique and Tanzania.

Whether the presence of foreign players helped the league in terms of standards and
 spectators; interest is very much a subject of debate.
 In my opinion, the foreign recruits lacked quality, and their contributions to raise the league bar
was insignificant. Understandably, almost all clubs are financially very weak and spending huge
 amounts to bring over quality players is beyond their reach.
 Overall, the league failed to impress, rouse and generate the much anticipated enthusiasm
and excitement in football goers. It turned out to be a low- key spectacle. Going by the numbers 
there was a significant drop in attendance.
 There are multiple issues that must be addressed to make the league attractive,
 exciting, meaningful and competitive in the future.


Seemingly, lack of playing grounds and facilities, questionable management of All Nepal 
Football Association (ANFA), unsound planning and scheduling fixtures, absence of home
stadiums for clubs, poor quality of matches and players' performance, lack of amenity services
in the stadium for fans and exorbitant ticket price affected the league in a big way.
 Furthermore, weak marketing strategies, spectators appetite for viewing top-level football 
competitions, lack of corporate sponsorship and broadcasting revenue and absence of football 
culture impacted the competition, as well.


I understand, it is easier said than done. To be fair, not every single issue can be addressed in
the context of Nepal football.
 That being said, both ANFA and football clubs have a crucial role to play in the future of the
league. Nothing will change if they continue to run away from their responsibilities. Everyone 
agrees, nothing changes if things are not done differently from what you have been doing.
Kathmandu league has come a long way,however,it has not grown professionally. The fact of 
the matter is that it has stagnated over the last several decades largely due to
 mismanagement and incompetency of ANFA, especially under Ganesh Thapa.


The oldest league in the country is in desperate need of a facelift to make it more relevant. The
 focus must be on improving the product and fan experience.

Otherwise, it will remain limp and 
lifeless.
 ANFA led by Karma Tsering Sherpa deserves praise for the resumption of the league after a
 gap of three years.
 That said, however, the organization and management aspects of the league left much to be 
desired. It should be borne in mind that It is ANFA's primary responsibility to make certain that
 they are highly organized and highly professional in everything they do.
Qatar Airways Sponsors Nepal A Division League: Machhindra Vs BBC