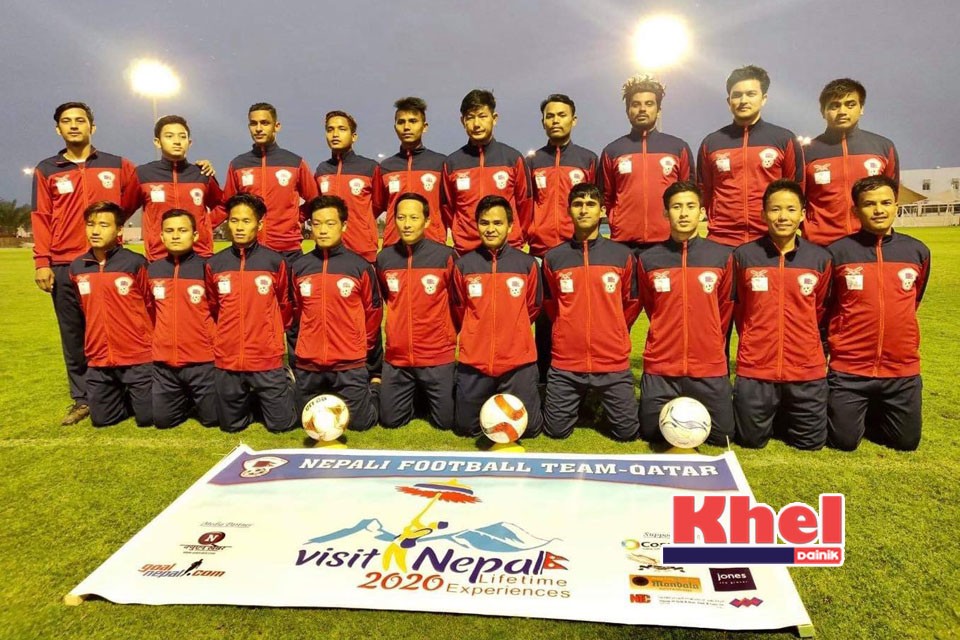 Nepal football team, Qatar is promoting Visit Nepal 2020 campaign in upcoming Asian communities football championship.

President of the team, Sanjeeb Ranabhat told GoalNepal that they would promote the campaign throughout the tournament that starts this week in Doha.

Nepal is expecting 2M tourists this year.

Meanwhile, team has provided sporting gears to the players.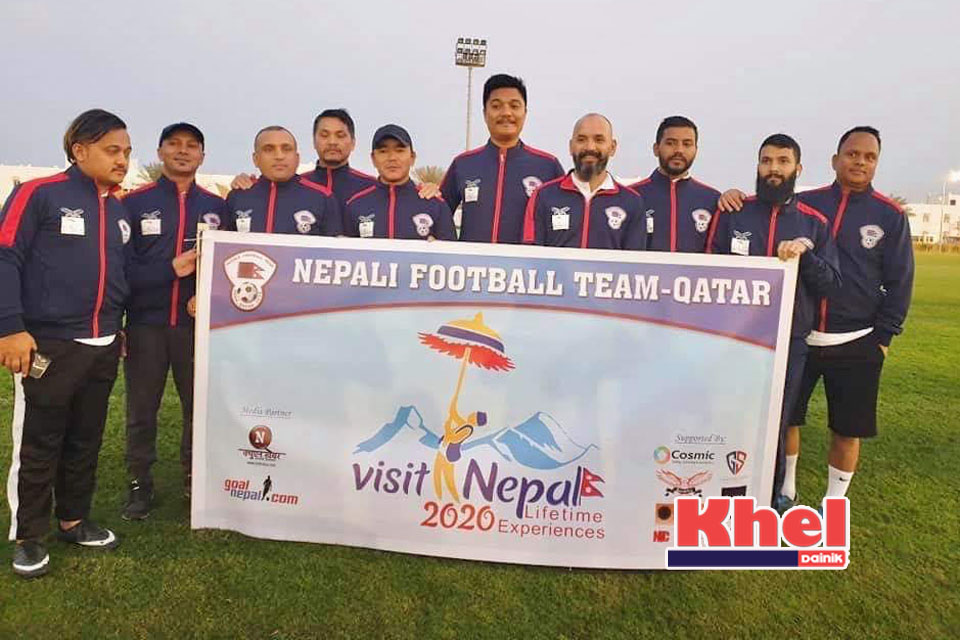 President Ranabhat and team manager Shiva Ranabhat unveiled the team jersey. VP Rajan Shrestha presented tracksuits to the manager.

Coach Sanjiv Waiba, Krishna Ranabhat, assistant coach Rakesh Shrestha, paramedic Manoj Ranabhat, adiser Durga Pyakurel and proprietor of Mandala restaurant Tirtha Raj Karki distributed jersey and tracksuits to the players.

GoalNepal and QN Khabar are the supporters of the team.

Cosmic Trading and Contracting, Nasser Al-Sada & Bro. Tradg. & Contg. Co, Mandala Restaurant, Kanduka, Jones the Grocer and Grace Security are the sponsors of the team.

Team management and the players:

President: Sanjeeb Ranabhat
1st VP: Rajan Shrestha
2nd VP: Rajaram Baniya
Media: Saujan Bhattarai
Paramedic: Manoj Ranabhat
Advisers: Shyam Bhusal/Durga Pyakurel
Team manager: Shiva Ranabhat
Technical coach: Rakesh Shrestha

Players:

Arjun Subba (C), Purna Danuwar, Jas Bahadur Rai, Ranjit Neupane, Roshan Limbu, Sanjay Mandal, Tej Narayan Limbu, Suman Limbu, Bikash Pradhan, Dinesh Shahi, Bharat Dhital, Labin Majhi, Salmon Karki, Sujan Limbu, Syanshu Bhusal, Abisek Karki, Dinesh Rai, Rajkumar Chaudhary, Dillipara Limbu, Rakesh Sapkota, Surendra Budhathoki, Sachin Sedhai, Purna Thami and Basanta Tamang.