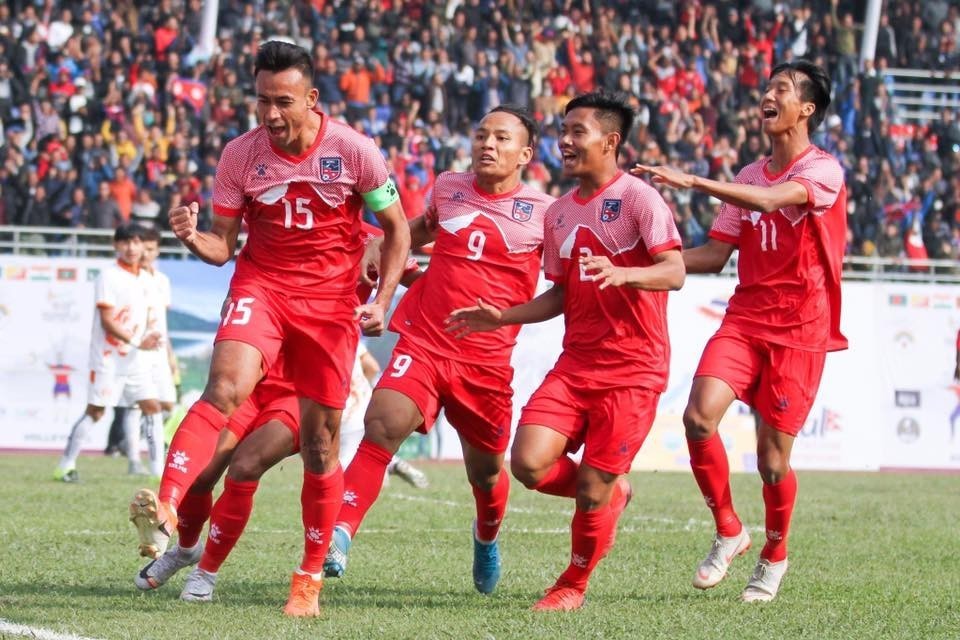 By Sushil Thapa, Fairfax,VA

The men and women's football teams of Nepal made a winning start at the 13th South Asian Games in Kathmandu and Pokhara respectively.

In contrasting fashion,they won their matches. While the men convincingly beat Bhutan 4-0,the women had to dig deep to overcome Sri Lanka 1-0.

Finally home supporters got their smiles back.As anticipated, they made their presence in a big way and vociferously rallied behind the team.

At the end of the day, fans got what they wanted.Obviously,they had a day to rejoice and celebrate after a long period of time.

Going into the match as favorites against Bhutan, coupled with fans high expectations,Nepal had to live up to expectations and perform under pressure, without question.

It remained to be seen, how well they would handle pressure.The concern was, would they allow high pressure moments get the best of them.

Much to everyone's relief, they dealt with pressure and put up a winning performance.
They took control of things from the outset,dominating exchanges and asserting territorial dominance.

An early goal by skipper Sujal Shrestha proved pivotal in Nepal's 4-0 victory. They never looked back and kept the opponent on the back foot throughout. All in all,it was a convincing and organized performance by the host.

It was a must win fixture for the home team to get off to a solid start. Now that they have done it, moving forward, they must keep up the pace and ride momentum into upcoming matches.

Although there is plenty of work ahead,Nepal is well positioned in the competition. It is crucial that they maintain the position all the way to the end. It would be a huge mistake if they let their guard down and allow mediocrity creep into their performance.

They need to remain absolutely focussed, sharp,dynamic and confident.They must keep pushing hard and continue performing consistently and aggressively.There is still a lot of room for improvement ,which Coach Bal Gopal Maharjhan will have to look into.

Against Sri Lanka, Nepal has to up the ante. They have to play an attacking, pressing brand of football .The strategy should be to unsettle the opposition.

Sri Lanka played well against Maldives,one of the contenders in the opener. Their morale has received a shot in the arm.They will be looking forward to improve their performance further and upset the host.

The Islanders will throw in everything to consolidate their position in the round robin league.They are aware that the odds are stacked against them. Should they display tenaciousness and dogged determination, they might pose credible threat to Nepal.

For the second straight match, Nepal starts the match as favorites. My advice is, just go out there,relax and play your natural game. And do not make the mistake of undermining the opponent's strengths and abilities.That might backfire.

I will be utterly disappointed if Nepal stumbles and fails to win against Sri Lanka. Having said that,let us keep fingers crossed and hope they deliver the goods.
Viking Thunder Clap For The First Time In Nepal !