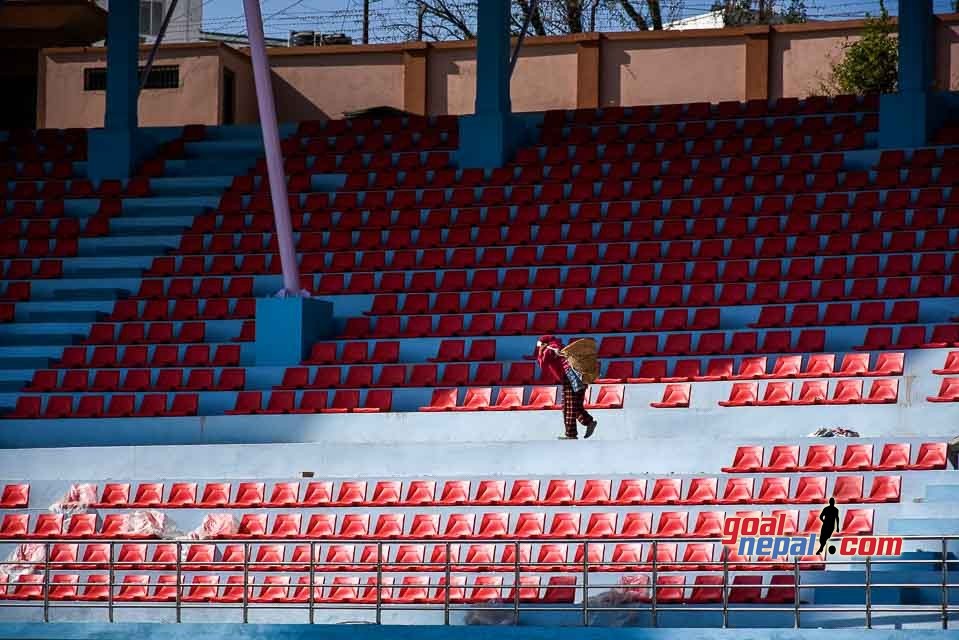 Sushil Thapa, Fairfax,VA

The national football team of Nepal's rocky journey to the 2022 World Cup Qualifiers continues with the upcoming fixture against Kuwait.

With three defeats and one win Nepal stands second from the bottom in the group that features formidable teams in the likes of Australia, Jordan and Kuwait.

Nepal's current standings in the group is no surprise. Prior to start of the qualifiers, it was a foregone conclusion that they won't make it to the next round.

From my perspective, the only point of interest in the competition was/is Team Nepal's performance.I wondered how well they would play and handle opponents against the odds, and would they be able to shrug off blowouts.

So far, going by the results,performances based on quality of opponents, with the exception of the opening match against Kuwait, it is fair to say that Nepal's overall showing has been relatively reasonable.

Team Nepal did extremely well to notch up a morale boosting victory over Chinese Taipei.Against the three front runners in the group, in my opinion, their best performance was against Jordan.

Not only did they deny the host from finding the net in the first half but were able to display some punch in the attack by creating a string of scoring opportunities,which lacked in previous matches.

Had it not been loss of focus, sloppy play and unwarranted errors in the second half, probably,the end result could have been a different story. A stalemate could have been quite an accomplishment for the team.

That being said,there is plenty of room for improvement and Nepal can certainly perform much better. I know, it is easier said than done.

If they want to make their presence felt in the remaining matches, they will need to up the ante by taking their game to a whole new level. It is imperative that players rise and grind their way to a more successful and rewarding results.

They have to learn from their mistakes so that they are able to perform better,eliminating mistakes.At the end of the day, they have to perform on the field regardless.

Otherwise,there is nothing much the team can do and it won't end well for sure. Having paid dearly for underperforming against Kuwait in the opening away match, players have to step up and put together a vastly improved performance to avoid another ignominious defeat in the second meeting.

They are left with one option, that is, go out there and put one hundred percent into your effort.It is crucially important that they perform aggressively and consistently to fight back against the physically and technically formidable Kuwait who will again be looking to cash in on their weaknesses.

Nepal would invite disaster on themselves if they allow the opponent to totally dictate the proceedings just like in the first encounter.

The challenge is big,no doubt,be prepared for it. You have nothing to lose and play your hearts out to achieve a respectable result.

However, prior to AFC inspection, All Nepal Football Association (ANFA) irresponsibly, foolishly and hurriedly announced that Nepal's remaining home fixtures would take place at Dasharath Rangasala.

ANFA should have first waited for AFC's decision. They have made a mockery of themselves. The Asian football governing body deemed Dasharath Rangasala unfit because it lacked adequate facilities and did not meet international standards to host the game.

At the time of writing ,AFC finalized Thimphu, Bhutan for Nepal's home match against Kuwait. ANFA had requested both AFC and FIFA to move the venue of their choice,Thimphu Bhutan. On the other hand, Kuwait was far from happy playing in Bhutan and made frantic efforts to move the venue elsewhere to no avail.

Apart from Dasharath RangasaIa, I find hard to believe that Nepal still does not have another international stadium. It is a pity that we are not even on par with Bhutan in terms of sports infrastructure and domestic football structure.Once again, the government has proved it is a national disgrace.

It is very unfortunate and crystal clear that the government does not give a darn about sports. No wonder, sports development continues to stagnate like never seen before.

In addition,Sports Ministry, National Sports Council and ANFA have proven their worthlessness by doing very little, if not nothing when it comes to speeding up Dasharath Rangasala's renovation work.The way things stand,nothing seems to be going right.

As a result,sport aficionados have been denied the chance to watch remaining home matches on home ground and rally behind their team.

The fact of the matter is that there is more to Nepal football woes than just poor performance from the senior national squad and different age group teams.The problems plaguing football are systemic, wide and deep-rooted.

As long as it prevails,the face of Nepal football will remain unchanged, teams' performance will keep going down the hill, footballers and fans frustration will keep multiplying.

ANFA led by Karma Tsering Sherpa is yet to bring optimism in its strictest sense. So far he has not made good on his promises.

His administration has done a few things, but they have been doing more talk and less action. We will have to wait and see, whether he is able to provide Nepal football a new lease of life in the next three years.