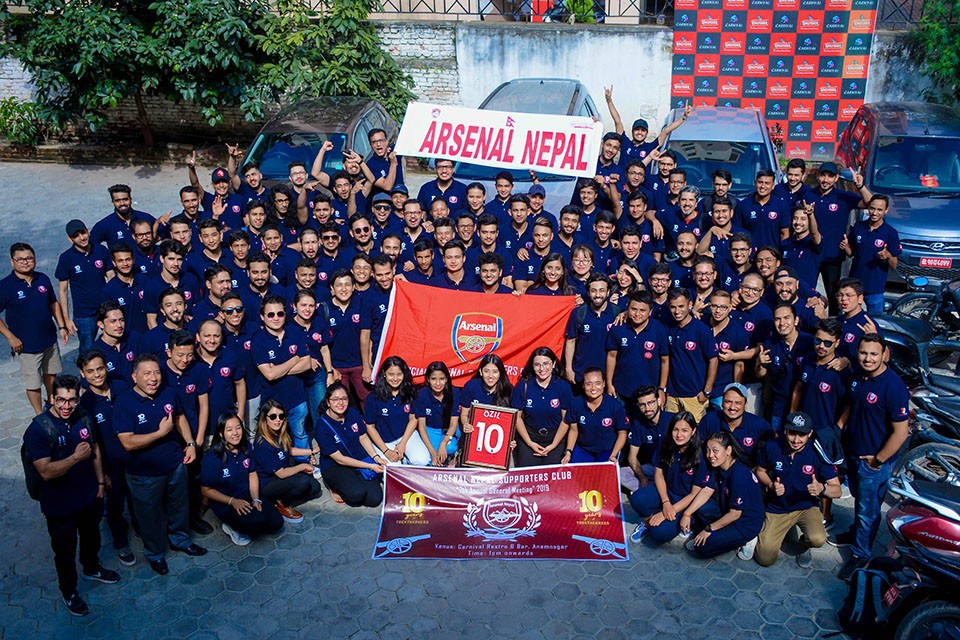 Arsenal Nepal organized their 7th AGM and its 10th anniversary on 10th August 2019 at Carnival Restro and Meetings, where Arsenal Nepal frequently holds match screenings.

The event, which was hosted by Arsenal Nepal newly appointed Vice-President Niroj Khatiwada, included the distribution of membership packages and cake cutting ceremony of 10th year anniversary. Membership package includes Polo T-shirt, 10th year special Diary replica, badge, stickers and membership card for 2019/20.

The main theme of the event was "10 years of Togetherness". Around 250 new members were added this year to the ever growing 700 official members.

Gyanendra Malla (Nepal's National Cricket team Vice-Captain), Sahara Basnet (Miss Nepal Asia Pacific 2017), Scientist and TV presenter Samir Mani Dixit and Film Director Sourav Chaudhary were present to unveil this season's kit, official 10th year logo, replica Diary in the presence of Arsenal Nepal's Officials.

"Its pleasure to be a part of this wonderful family, felt privileged and proud" cricketer Gyanendra Said.

He thanked Arsenal Nepal for inviting and even promised to support Arsenal Nepal's upcoming event.

Arsenal Nepal is an official supporters club of Arsenal FC, London, established in 2009 and has been conducting various programs related to Arsenal FC like futsal tournament, AGM, cycling, friendly football matches and regular screenings of Arsenal's matches since then.

Meanwhile, Nabin Chitrakar was re-elected the President of the fans group.

Niroj Khatiwada has been appointed the Vice-President. Similarly, Sabin K Shrestha was appointed as General Secretary and Injal Bhattarai the new treasurer.

New committee members were also announced. The members are Prasamsa Poudel, Samikshya Katwal, Sarita Khadgi and Alina Shah Thakuri.

This year's event-coordinating responsibility were given to Kalind Sapkota and Abhash Acharya. The event was wrapped up by a photo session and lunch.