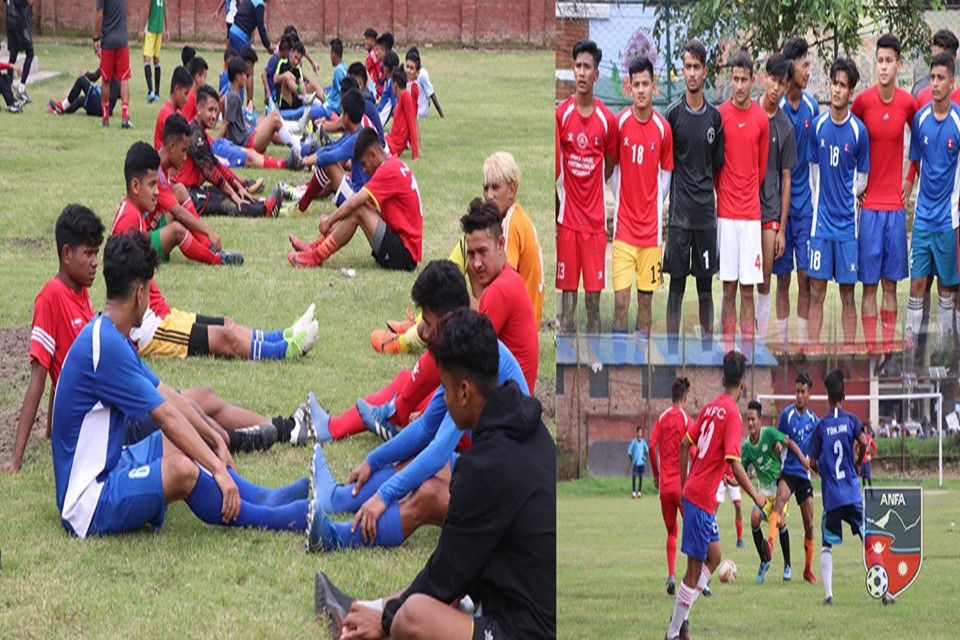 ANFA has gone too low these days. They didn't provide training kit to the U18 players called to the camp for upcoming SAFF U18 championship. The training kicked off at Buddhi Bikash Khel Mandal on Sunday.

Head coach Chet Narayan Shrestha has picked 46 players from recently held Lalit memorial U18 championship. He has also included Korea based Manish Dangi.

ANFA used to provide training kit to all players in preliminary squad before. Last week, Nepal women's team players were also seen training in different jersey.

Nepal is hosting the championship from September 20-29 at ANFA complex.

Squad:

Goalkeepers: Bishal Sunar, Rohit Karki, Surya Adhikari, Pujan Hona, Nishan Khadka, Aakash Ranabhat.

Defenders: Bishal Basnet, Randip Poudel, Padam Bhattarai, Ashim Gurung, Sujan Sharma, Nabin Gurung, Roshan Dong, Yubesh Thapa, Bishant Basnet, Alik Rumba, Anjan Maharjan, Raju Pandit, Bishal Shahi.

Midfielders: Sishir Lekhi, Dipesh Gurung, Roshan Rana Magar, Rajan Pun, Akash Buda Magar, Rejin Majhi, Sanjeev Lama, Jaya Gurung, Manish Thapa, Kushal Phuyal, Aadit Gurung, Shyamu Murmu, Sanju Shrestha, Nitin Thapa, Samrat Sunuwar, Rohan Karki, Mausam Subba.

Forwards: Brijesh Chaudhary, Sachu Gurung, Niraj Chaudhary, Kailash Lamichhane, Karlosh Bakhariya, Darshan Gurung, Abhishek Shrestha, Sanju Sen, Kritis Ratna Chhanju, Manish Dangi.