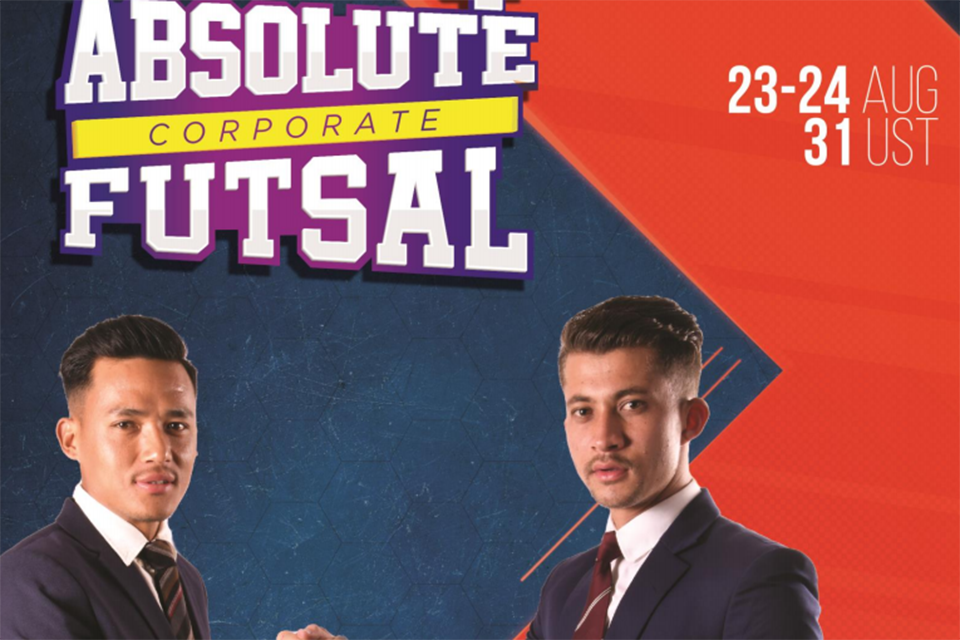 Absolute event is organizing 4th Absolute corporate Futsal from August 23.

The The tournament is scheduled to be held between 23 August and 31 August 2019.

The event will be held at Field Futsal Arena in Sanepa and will be participated by 20 corporate houses across Kathmandu. Amenities like food and beverage stalls, stands for spectators and parking space will be available at the venue.

Large numbers of supporters and spectators including colleagues, friends and family of participants are also expected.

Absolute Event has been organizing the Absolute Corporate Futsal Tournament since 2016 and the tournament has become bigger and better with each passing year. The tournament aims at bringing out the finest footballing talents from Kathmandu's corporate entities under a single roof.

Organizer: Absolute Event Pvt. Ltd. will be responsible for the complete management of the Tournament.
Mode of Competition: League cum Knockout basis.

Match Dates: Group stages – 23rd & 24th August 2019

Quarter Finals – 31st August, 2019

Semis & Finals – 31st August, 2019

Participants: At least 20 corporate houses from across the city.

Eligibility: Only employees of participating corporate entities. Professional and A, B or C Division players will not be allowed. Those who have played in any national-level futsal league(s) in the last two years will also not be allowed.
As per ANFA rules, former professionals and A, B or C division players employed in participating corporate houses will only be eligible if they have not been playing professionally/for A, B or C division teams for over two years. Any team found using outside players shall be expelled from the tournament and their participation fee shall not be refunded.