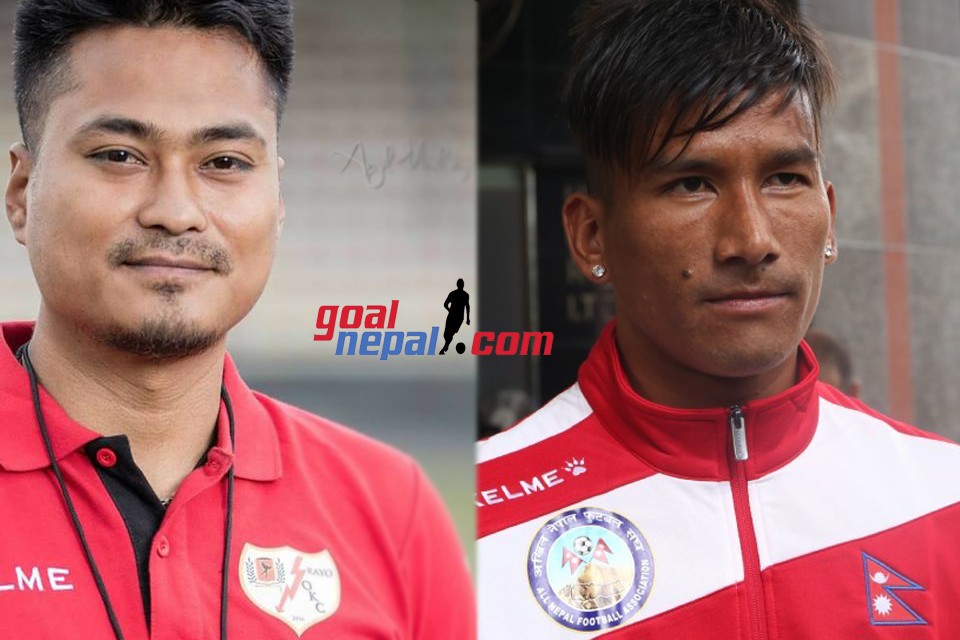 Conflict between athletic trainer Bibek Bikrant Adhikari & senior national team player Kiran Chemjong has been surfaced in media reports.

According to the report published in NepalNews, Adhikari & Chemjong were involved in a heated conversation regarding "harsh" training regime.

GoalNepal contacted national team manager Madhusudhan Upadahaya to learn about the issue.

"I came to know that Bibek and Kiran were involved in a discussion. We are checking CCTV footage to learn what really happened. General secretary (Indraman Tuladhar) is in Bhutan. We will investigate the issue upon his arrival", said Upadhaya.

Nepal national team head coach Johan Kalin is in Sweden on his personal trip. His assistant Kiran Shrestha, athletic trainer Bibek Bikrant Adhikari started training session on Sunday.

According to media report, Adhikari started harsh training schedule for players from the first day of national team training for upcoming FIFA world cup qualifiers. Players, specially Kiran Chemjong, objected the move.

TC sports club, Maldives recently rescinded contract with Kiran Chemjong for not reporting to the club on time. He is now in Nepal.

Adhikari - who returned home from USA to contribute something to Nepalese football - clarified, "I began training session with cardio from the first day as I wanted to check players' fitness. Every single day is important in training session whether it is first day or the last one.

"I started with cardio exercise for the players as per instruction from head coach Kalin but some players denied to be involved in the exercise saying that it was their first day. Kiran Chemjong wasn't present that day. Coach Kalin has strictly instructed me to keep players fit and to maintain their fitness records. The coach has clearly mentioned that only fittest players will make it to the squad.

"The next day, Kiran Chemjong asked me if I had taken test of the players. I replied him that I was checking players' fitness and it wasn't a test. Chemjong argued with me telling that such exercises are not held in the first day in his previous clubs also. I clarified him that players need to be fit from the first day and also told him that I had worked with world cup players in USA and I used to hold similar exercise for the players.

"Then suddendly Kiran raised his hand over me. There were some senior players also in the canteen (where this incident happened). I was holding a cup of tea in my hand. Assistant coach Kiran Shrestha was also there. I tried to go out of canteen to avoid his provocation. He then forcefully pressed my cheeks with his hand in the way a kid gets bullied in a school. I couldn't control his provocation. I then pushed him with my hands in self defense. I was holding a cup of tea in my one hand which got splashed over him. CCTV installed at ANFA canteen must have captured the incident. The CCTV footage will definitely clarify the fact", said Adhikari.

I then informed technical committee chairman Krishna Thapa and also called ANFA president Karma Tsering Sherpa about the incident. President Sherpa told me that he would talk to me later.

Yesterday I got a letter from ANFA to give written clarification about the incident. The letter is signed by 22 players. I will definitely answer to ANFA. I didn't return home from USA just to enjoy my time here but to contribute something to nation. President Sherpa also called me yesterday evening saying that I dominated the players but this is not the fact. I tried to clarify him but he ended the call.

Players might have avoided the test in fear of dropping from national team squad as coach Kalin has strictly told to keep fit players only in the team, said Adhikari.
Nepal Coach Johan Kalin - Everybody Knows It's Big Game Against Kuwait