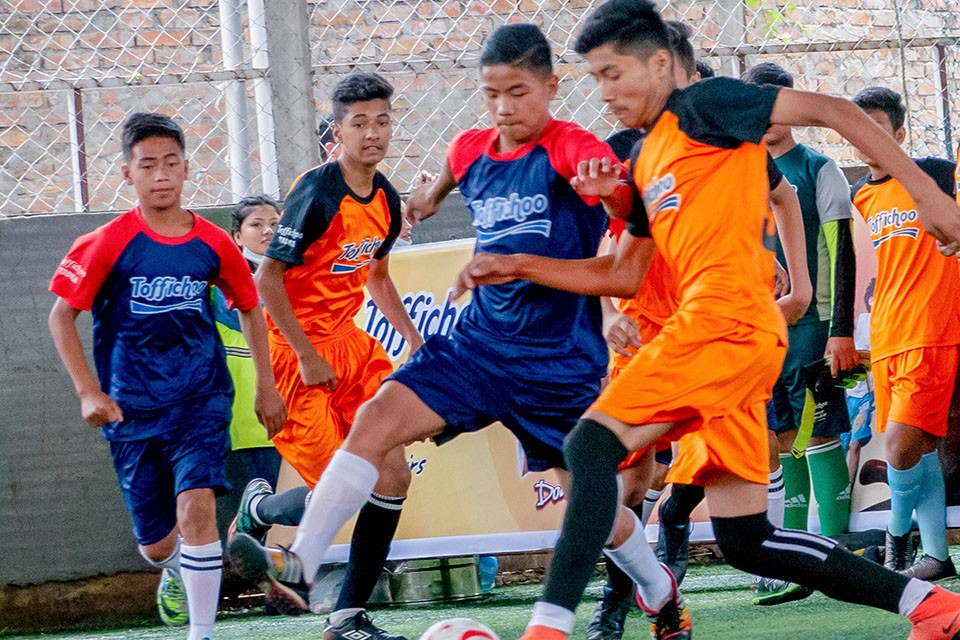 Toffichoo Junior Champions Cup 2019, an inter-school futsal tournament got underway in Kathmandu on Thursday.

A total of 141 teams from 87 schools are taking part in the four-day tournament that is divided into three categories U-11, U-13 and U-15.

National goalkeeper and tournament goodwill ambassador, Mr. Kiran Chemjong inaugurated the event and advised the kids on technique improvement and confidence building.

The first day of the tournament saw teams from all categories compete at the five venues: Samakhushi Futsal, National Sports Centre, Grassroots Futsal Academy, B.G. Brothers Futsal and Shantinagar Futsal.

The teams at each venue were divided into 4 groups; with the winners and runners-up progressing through to the quarterfinal stage.

At Samakhushi Futsal, in U-11 category RIBS beat New Era by 5-2 and the standout result was a blowout of 0-8 in the game between New Era and Kids Learning. Rajan Memorial beat Kids Learning 3-2 and Learning Zone 3-1, while Holy Vision won its only game today by a margin of 5-1 in the U-13 category. Himrashmi beat Amity Wits by a score line of 6-2 but lost to Greenland 4-0 in the U-15 category.

At National Sports Centre, from the U11, Rato Bangla 'A' will square off against Rato Bangla 'B' and L.A. will compete against GEMS for a place in the venue finals.

Two very lopsided games saw L.A beat Cambridge 14-0 and again beat KMC 10-0. GEMS and Rosebud also advanced to the semis from U-13 category.

At Gassroots Futsal Academy, Mangaldeep, John Dewey, Daffodil and Vidya Sanskar moved on to the semi finals from U-11 category.

Similarly, from the U-13 category, Daffodil, Trinetra, Meredian International, KTM Meredian, TIA, John Dewey and Bidhya Sanskar will play in the quarterfinals. From the U-15 category, Daffodil, Bidhya Sanskar, Genisis, Trinetra, Insight Vision, KTM Meredian, John Dewey and Budanilkantha advanced into the quarterfinals.

At B.G Brothers Futsal, Pepsicola, Kastuv beat Marigold by 4-0, Highland beat Puspa Vatika by 1-0, Lyceum beat Gateway by 1-0 and Precious was comprehensively beaten by Nepal Tara 0-5 from the U-13 category to advance to the semi final. U-11 category games saw Marigold 'A', Precious, Gateway and A.B School advance to the semis.

At Shantinagar Futsal, Canvas, Pathsala, New Summit and Rajarshi Gurukul advanced to the semi finals from the U-13 category. Likewise, Peace Point will be play Ambition, The Acme Academy will play K.V.S, Rajharshi Gurukul will play KTM National and S.S.S.V.M will play Ankur in the semi finals of the U-15 category.

Second round of group matches and the quarter finals will of each venue will be held on Friday. The Semifinals and Finals will be held on Saturday.