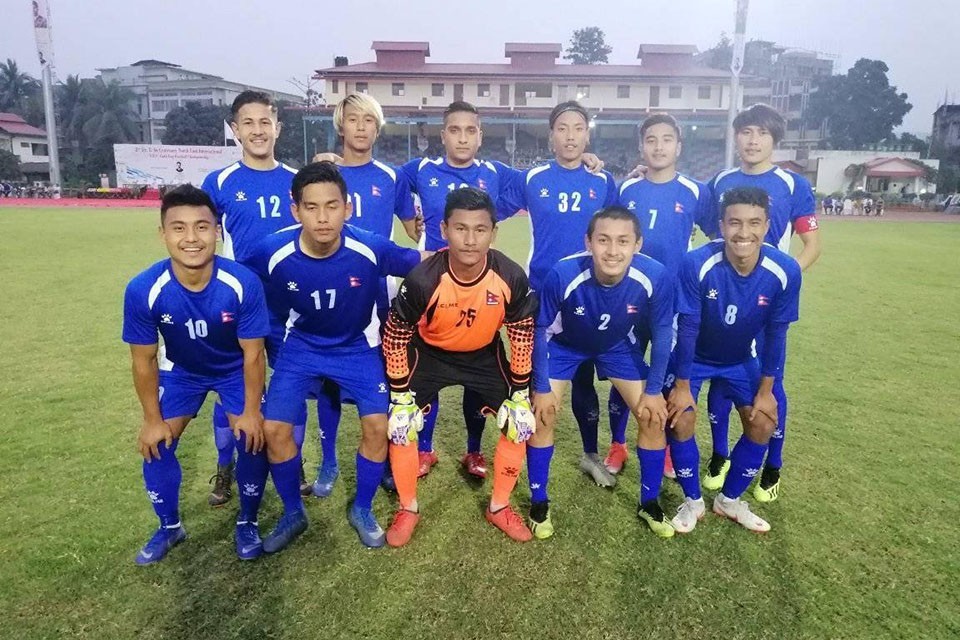 ANFA U21 is taking on Mizoram in its fourth group match of Dr. T.AO North East International NEC U-21 Gold Cup at LNIPE complex, Sonapur, India today.

A win or draw against Mizoram will qualify ANFA U21 to next round.

Nepal has 6 points from 3 matches, Manipur has 6 points from 4 matches, Meghalaya has 10 points from 4 matches, Mizoram has 7 points from 3 matches, Nagaland has 3 points from 3 matches and Tripura has no points from 3 matches.

The match will be played at 4:45 PM NST.

ANFA U21 are grouped with Nagaland, Meghalaya, Mizoram, Manipur and Tripura in group B.

ANFA U21 have so far played three matches.

Earlier, they suffered defeat at the hands of Meghalaya 3-2 in their first match and thrashed Tripura in the second match and won 3-1 against Manipur.
A total of 11 teams; each team from Nepal, Bhutan and Bangladesh and eight teams from North East states of India; are competing in the tournament.
GK: Sojit Gurung, Vishnu Kumar KC, Surya Adhikari 



DFs: Rajan Gurung, Ashim Bhusal, Bishwas Udas, Gautam Shrestha, Randip Paudel, Tshiring Gurung

MF

s: Anil Maharjan, Arik Bista, Manish Thapa, Mikchen Tamang, Nitin Thapa, Abhisek Rizal, Sishir Lekhi



Fws: Rejin Subba, Rajiv Lopchan, Dhiraj Shrestha, Prezen Tamang 

 Optional players are: Abhisek Baral, Sanish Shrestha, Aruj Singh, Ritik Khadka. 


Coach: Chet Narayan Shrestha

Assistant coach: Salyan Khadgi 

GK coach: Chhanu Ram Chaudhary

Physio: Kritan Shrestha


(Pic: NSJF)