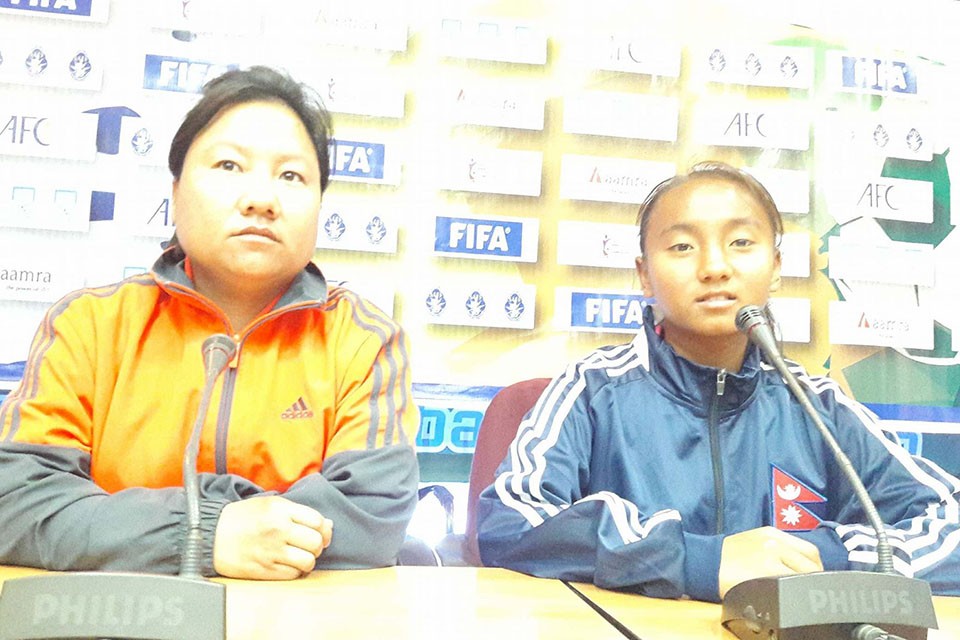 Nepal U15 girls team is kicking off SAFF U15 championship taking on hosts Bangladesh on Sunday.
The match will be played at 2:15 NST in Dhaka.
In the pre-match conference held on Saturday, Nepal U15 coach Ganga Gurung said, "We have trained well. Our target is to reach final as we have prepared accordingly".
"We have analyzed the opponent teams. We will play our best to reach final", she added.
Nepal U15 skipper Preeti Rai said, "We have good coordination among the players. We understand each other. We will play for the win and for the title".
"I am very happy to compete in an international tournament. We will give our best", she added.
Squad:
Kareena Dahal, Bitisha Rajbanshi, Puspa Gurung, Sarishma Thapa, Manamaya BK, Sushma Rai, Surakshya Singh, Saraswoti Hamal, Preeti Rai, Ashmita Chaudhary, Muna Magar, Nikita Thoker, Sabita Rana Magar, Sushma GT, Anjali Chand, Ashmita Ranpal, Nikita Dhamal, Supriya Rajak, Riya Banu, Ashmita Gurung.
Head Coach: Ganga Gurung
Coach: Paras Chaudhary
GK coach: Binod Dangol
Team Manager: Bimala Paudel

(Pic: NSJF)
Anu Lama Wants To Become A Coach