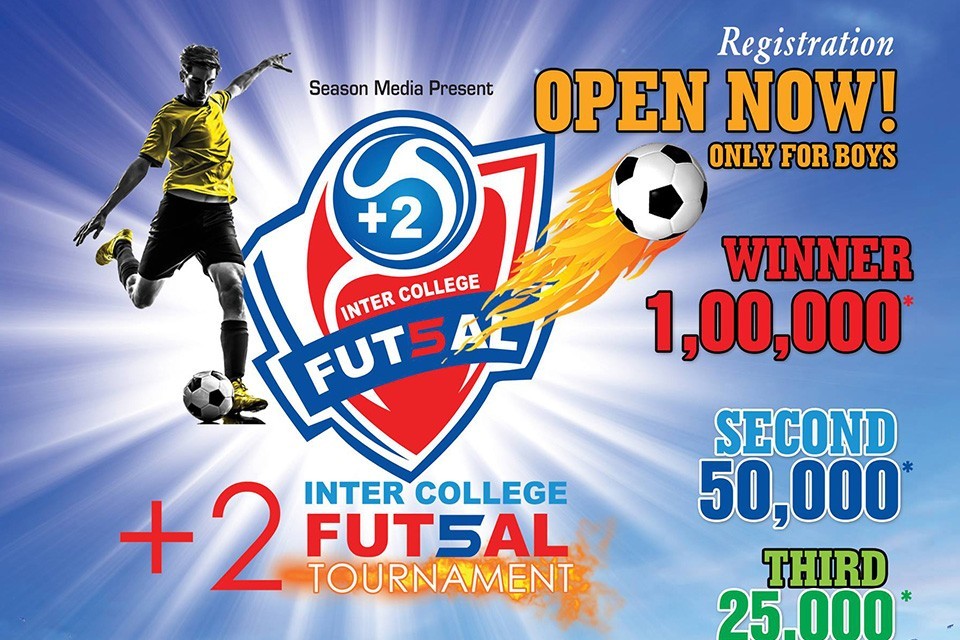 Season media is organizing inter college Futsal championship on Magh 27. 


The event will be played at Dhumbarahi, Handigaun. 



22 colleges are taking part in the event which has a winning purse of Nrs 1,00,000 while runners up team will get Nrs 50,000.


Third placed team will get Nrs 25,000. 


Group A
1. Kumari College, Tusal Bouddha
2. Nepal Police School, Sanga Banepa
3. Manamohan Memorial College, Sorakhutte

Group B
1. Canvas College, Basundhara
2. White House International College, Baneshwor
3. Birendra Sainik College, Bhaktapur

Group C
1. St. Lawrence College, Chabahil (Group A)
2. Insight Vision College, Dhumbaharai
3. Lincoln College, Samakhushi

Group D
1. Navodit College, Samakhushi
2. Kamana Int'l College, ThuloBharyang
3. St. Lawrence College, Chabahil

Group E
1. Maha Manjushree College,Chauni
2. Xavier International Academy, Kalopool
3. Hims College,Bouddha

Group F
1. Kathmandu Valley College, Chauni
2. Texas Int'l College, Chabahil
3. Moliss College, Patan

Group G
1. Times Int'l College,Dillibazar
2. Santona College,Nagarjun
3. Southwestern State College, Bashundhara
4. Glacier College, Shantinagar