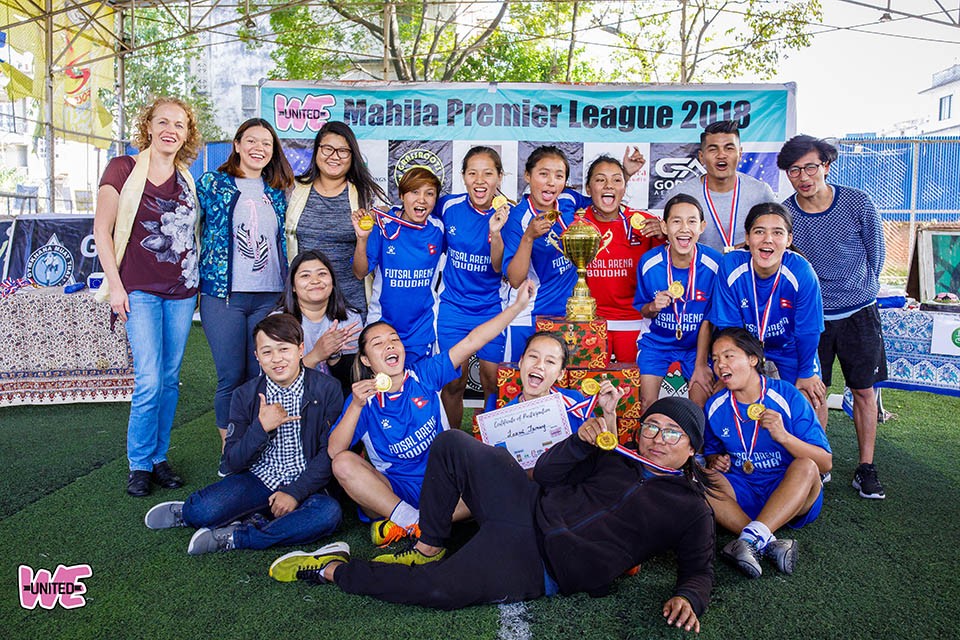 Futsal Arena has won the Mahila Premier League championship with a total of 21 points and lifted the trophy for Kathmandu's best women's futsal team in Season II.

Pasang College won second position with a difference of merely 3 points on the league table. The final game of MPLII was a defining one: Futsal Arena and Pasang College, both tied with equal points, went head-to-head for the championship. Over 80 fans attended the game, cheering wildly for their teams.

In the end, Futsal Arena's many years of futsal experience allowed them to dominate the game, winning 6-2.

As league winners, Futsal Arena received a one-month pass for Muay Thai and Beat Cycling classes at GymKhana Muay Thai, hand painted Tibetan boxes from Samsara Design Studio, and an all inclusive retreat getaway from Riverside Springs Resort. In second place, Pasang College was awarded a lunch and pool pass from Hotel Shambala, a 10-day "Insanity Package" from Fitstop Fitness, and a gift basket worth Rs. 25,000 from Gorkha Aesthetics.

"MPLII has been a very enlightening journey for us," said Sunakala Rai of Pasang College. "I came to learn that trust between the team members is the most important thing; playing as a team and not just as an individual."

Sunkala Rai from Pasang College and Manisha Thapa Magar from Futsal Arena won the golden boot awards, scoring 32 and 22 goals respectively over the course of the eight-week league. Likewise, Jharana Nagarkoti from Futsal Arena and Jharana Bayung Rai from Pasang College won the golden glove awards.

Each winner received a gift certificate of Rs. 2,500 from EVOKE Cafe & Bistro. In the final week of MPLII, Kumari Futsal defeated Barca Nepal 10-2 to decisively take third position. As bronze medalists, Kumari Futsal was awarded a one-day rafting trip by The Last Resort and a voucher of Rs. 10,000 from Fire and Ice. FC S YES managed to finish the league in fourth position, after securing just enough points through a 3-3 draw against Mighty Mahilas. MUFC Nepal Girls finished the league in fifth position, following their 8-1 win against NMB Bank.

Despite their loss, it was a special game for NMB Bank as they scored their first league goal!

"The ambience of MPLII is very encouraging. Not only did I make new friends, I was able to respect my opponent, support my team and encourage and get encouraged by many other players," said Seemona Aryal of FC S YES.

The Closing Ceremony of MPLII immediately followed the last league games. Anne McGuinness and Arpana Pradhan of

The WE United Project began the program by acknowledging and congratulating the players, coaches, referees, fans and sponsors. Zane Petre, Deputy Chief of the Delegation of the European Union to Nepal, shared inspiring words with the players and encouraged them to continue achieving their goals. The European Union in Nepal funds the Mahila Premier League and associated initiatives.

The Closing Ceremony included the distribution and certificates, prizes, medals, and the championship trophy! To celebrate a successful end to the league everyone enjoyed a customized chocolate cake from Lakuri Cafe. A spirit of camaraderie animated the Closing Ceremony, with players honoring and hugging each other and claiming to have made many new friends and learned many football techniques over MPLII.

"I do not know what I am going to do next Saturday since the MPLII is over. I am definitely going to miss it," expressed Bina KC of NMB Bank.