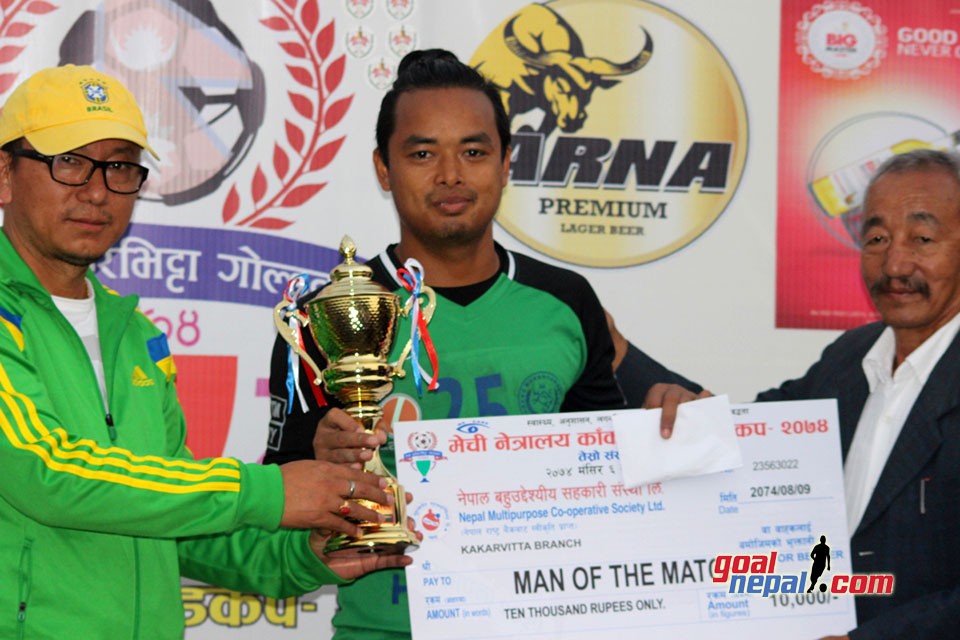 Star studded MMC toiled hard to beat Rupandehi XI in sudden death to enter semifinals of 3rd Mechi Netralaya Kakarvitta gold cup.
Rupandehi XI: Dilip Chhetri (GK,C), Rajin Dhimal, Bijaya Dhimal, Niraj Basnet, Musa, Rupesh KC, Djbric, Sunil Bal, Dipak Rai, Aba, Saurav Magar
MMC: Biraj Maharjan (C), Kamal Shrestha, Ananta Tamang, Bimal Basnet, Dinesh Thapa (GK), Bishal Rai, Sujal Shrestha, Heman Gurung, Bikram Lama, Bimal G Magar, Bimal Rana
MMC played the match with nine Nepal internationals. Both teams played 0-0 in regulation time. Spot kick battle was invited right after the match.
MMC goalie Dinesh Thapa Magar became the man of the match. He received Rs 10,000 cash.
PENALTY SHOOT OUT::
MMC:
Anil Gurung (GOAL), Bimal Basnet (GOAL), Sujal Shrestha (GOAL), Heman Gurung (GOAL), Dona Thapa (GOAL)
Rupandehi:
Niraj Basnet (GOAL), Rajin Dhimal (GOAL), Rupesh KC (GOAL), Dipak Rai (GOAL), Dilip Chhetri (GOAL)
Sudden Death:
MMC:
Bikram Lama (GOAL), Bimal Rana (GOAL)
Rupandehi:
Bijay Dhimal (GOAL), Saurav Magar (SAVED)
Qatar Airways Martyr's Memorial A Division League: MMC Vs Nepal APF