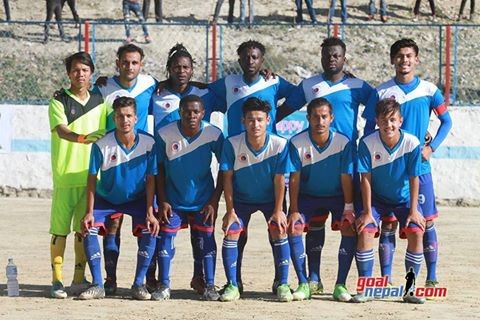 Friends Club stunned Sankata club 1-0 to enter final in Chandragiri gold cup at Naikap.
Foreign recruit Segun scored the match winning goal in 69th minite.
Nepal Army will meet Himalayan Sherpa club in the second semifinal match on Sunday.
Bright youth club is organizing the championship, which has a winning purse of Rs 5 lakhs.
Sankata club: Binay Shrestha (GK), Saroj Dahal, Florent, Tampi, Amit Tamang, Prakash Budhthaoki, Bishwo Adhikari (C), Nirajan Khadka, Sajin Thapa, Raj Paudel, Martins
Friends Club: Aashish Thada (GK), Seung, Janak Koirala, Aasish KC, Samir Bista, Anil Maharjan, Lawal, Rumesh Bartaula, Glory, Dhiraj Shrestha, Patric
BRIGADE BOYS CLUB VS FRIENDS CLUB - TWO GOALS !