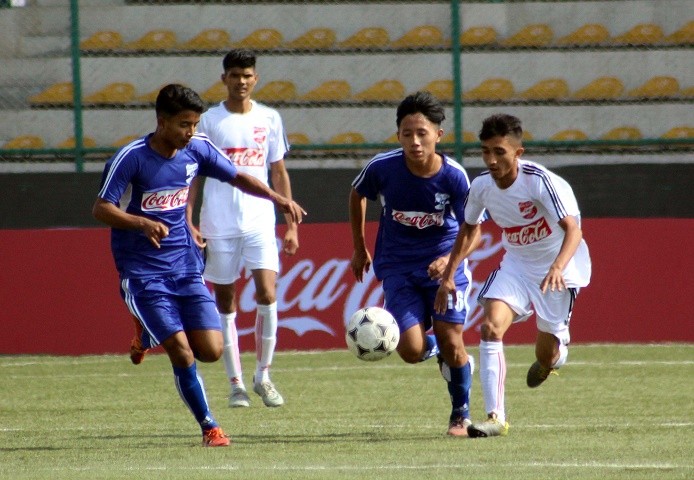 Coca-Cola cup inter school boys' final round got underway on Wednesday at ANFA complex, Satdobato, Lalitpur.
Five matches were played in the opening day. There are 13 qualified teams participating in the final round.
In the first match, Everest Academy defeated Laxmipur English school 4-1. Ritik Kumar Khadka (61', 63') scored a brace while Madan Shyangtan (40') and Robinson Shrestha (31') scored for the winners. Sunny Kumar Chaudhary (41') scored a consolation goal for Laxmipur.
Sainik Awasiya suffered 4-1 loss at the hands of Mahendra Memorial in the second match of the day.
Bharat Chaudhary (18', 32', 58') scored a hat trick while Karan Sunuwar (34') scored another for the winning team. Nabin Bhattarai scored for Sainik.
Bal Srijanalaya defeated Mid Western Police school 2-0 in the third match. Pratik Ale Magar (36') and Anil Lama (56') scored apiece.
Orchid academy defeated Scholars home 1-0 in the fourth match. Suyog Raut scored the match winner in 38th minute.
Gajurmukhi school defeated Bhanubhakta school 2-0 in the last match of the day. Pawan G.C (59') and Rohan Dhital (69') scored apiece for the winners.
Tournament is played on league-cum-knockout basis.
13 qualified teams are: Everest S. Academy (Sarlahi), Laxmipur E. School (Kathmandu), Jana Jyoti Boarding (Rupandehi), Mid-Western Police Boarding (Dang), Bal Srijanalaya School (Kathmandu), Chandra Jyoti English School (Jhapa), Sainik Aawashiya (Kailali), Mahendra Memorial English (Sunsari), Bal Gitanjali Secondary (Kathmandu), Scholars Home English (Rupandehi), Orchid Academy (Nuwakot), Gajurmukhi English (Kathmandu), Bhanubhakta Memorial Boarding (Morang).